You've successfully copied this link.
Property Survey and Index Canada Q2
By Juwai, 22 June 2021

The Canada Mortgage and Housing Corporation, BMO, and the Bank of Canada are not the only authorities who have made anxious statements about the booming home market. But what about the professionals who actually trade-in homes? Do agents believe Canada is in bubble territory?
Download the report now to learn about the six developments driving Asian buyer interest in overseas property.
Our findings reveal the Juwai IQI Canadian second-quarter property survey results, conducted between 20 April and 19 May 2021.
Find out how Canada is experiencing a residential real estate bubble.
Here are some highlights from the report:
Canadian agents report that foreign buyers follow the local buyers out of the central cities and into the suburbs.
Foreign buyer transaction growth will be moderate through the second quarter of 2022.
The province where foreign buyer transactions are most likely to increase in Quebec, followed by Alberta.
Foreign buyers now account for nearly as much of the secondary market as Canada's primary, new-development home market.
For more details of the report, sign in and download it HERE.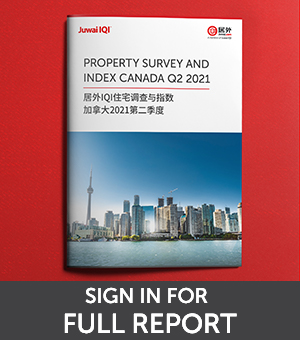 Liked this article? Sign up for free to get Juwai Juwai Asia Market updates!