You've successfully copied this link.
China's Greenland to build Europe's tallest residential tower
By Juwai, 01 December 2016

London will soon be home to Western Europe's tallest residential tower, and it's being built by a Chinese developer.1
Shanghai-based Greenland Group – China's third most profitable real estate developer2 – recently unveiled its Spire London project3, and while Greenland has invested $13.9 billion in a range of projects across the world by the end of 2015, Spire London looks like it will (literally) top them all.
Slated for completion in 2020, the 67-storey, 235-metre-tall project will be tower over all other residential projects in London and Europe, and is touted to reap an estimated £800 million in sales.4 Designed by HOK, the award-winning architects responsible for the prestigious Peninsula hotel in Shanghai5 and the Dubai Marina, Spire London is set to be impressive, and Chinese buyers are already lapping it up.
200 of Spire London's 861 available units (priced between £693,000 and £1.9 million) have already been snapped up so far.6
Despite fears about Brexit, Chinese buyers see Spire London as a great opportunity. The devaluation in the pound post-Brexit, which has seen the RMB strengthen by 12%, has made it cheaper to buy property in London.
Aside from exchange rate changes, Spire London is an attractive option given its close proximity to Canary Wharf, London's financial hub, and the soon-to-be-opened Crossrail project, which will provide fast links across London.
New projects show global ambition, cutting-edge design
Chinese real estate developers' global footprint is larger than ever after investing $31.5 billion7 in development projects all over the world up until the end of 2015, and Spire London is just one of many cases of China's developers reaching for the sky to appeal to China's increasingly internationally-minded market of property investors.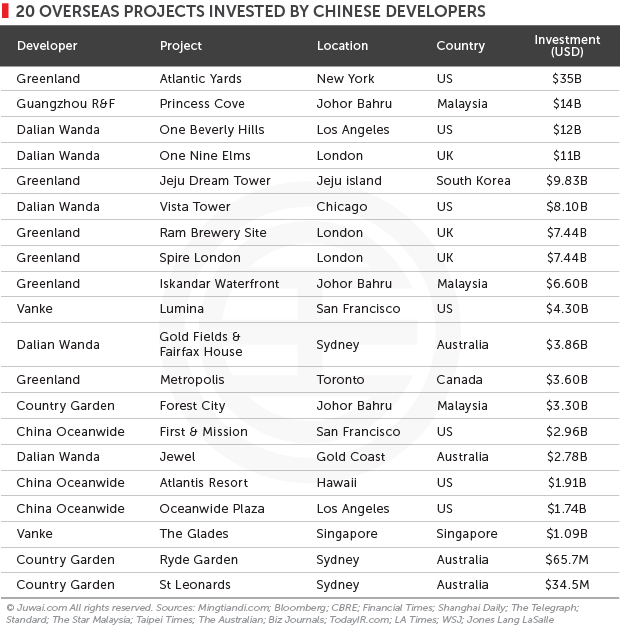 Dalian Wanda, one of the most active outbound investors, is building a 1,200-ft-tall, 93-storey project in Chicago called the Vista Tower Chicago.8 By mid-2016, the company had already sold 20% of its available units, generating $200 million in sales.9 The project, designed by award-winning architect Jeanne Gang10, is located in Chicago's pricey Lakeshore East area, and will be Chicago's third tallest tower when completed in 2020.
China Oceanwide, a Beijing-based developer, has plans for two towers measuring 910 feet and 600 feet, respectively, at its First and Mission project in San Francisco11, the first of which will rank as San Francisco's second-tallest tower.
The $296 million project is being designed by world-renowned architects Foster & Partners12 – responsible for Beijing's Capital Airport and Hong Kong's HSBC Tower13 – will deliver 1 million sq ft of office space, 265 residential units, and a 169-room hotel.
But while the projects may excite, the practicalities and challenges of operating overseas require developers to operate with caution.14 Wanda's plans for the Edificio Espana project in Madrid – its first foray into the Spanish market – fell foul of local planners, forcing its recent sale for €272 million.15 Greenland, too, had to pull the plug on its proposed Brookfield Multiplex project after disagreements with project partner Brookfield over the details of the plan.16
Chinese developers go hard
Despite the challenges of adapting to a new environment, expanding overseas is simply a necessity for Chinese developers. One can even say it's a case of go hard or go home.
For starters, new purchase restrictions mean that China's residential markets are expected to see slower growth through 201717, and increasingly expensive land prices in Chinese cities are impacting profit margins.18
This also applies to Hong Kong – a favourite with mainland investors – where the Hong Kong government's recent increase on property stamp duty will narrow opportunities for Chinese buyers and push their attention overseas.
As such, diversifying operations through international projects and marketing them domestically to Chinese buyers makes for sound business sense. That's why Vanke, China's largest developer, is targeting 10% of total company sales in 2020 to come from overseas.19
To put that in perspective, in 2015 the company booked ¥199.5 billion in sales revenue20, meaning a 10% share would have totaled a whopping ¥19.95 billion ($2.9 billion).
$38 billion of projects expected by 2020 in US alone
As China's developers go bigger and better than ever before, the opportunity of the market in China for overseas property sales comes into even sharper focus – sales in the US alone to Chinese buyers reached $93 billion between 2010 and 2015.21
Looser global visa rules and more flight connectivity than ever are creating an increasingly large, internationally-minded market of property investors in China, and Chinese developers know this.
As such, already established names like Vanke, Greenland, Wanda, and Poly Real Estate hope to leverage their name recognition and mainland sales platforms to tap into this Chinese growing demand for overseas property.
Asia Society projects investment in the US alone by Chinese developers will reach approximately $38 billion by 2020.22
And while new regulations announced most recently on 30 November 2016 suggest that the Chinese government will be more cautious about approving Chinese companies' forays overseas, pushing corporates into new markets remains an expressed government policy, so a continued outflow of Chinese developer-driven projects springing up across the world remains highly likely.
Sources: 1. The Guardian: Chinese firm to build Europe's tallest residential tower in London; 2. China.org: China's top 10 most profitable developers; 3. Bloomberg: Chinese pile into bargain London property; 4. Property Funds World: Greenland builds Western Europe's tallest residential tower London; 5. HOK: A grand, new hotel on Shanghai's historic bund; 6. Bloomberg: Brexit no barrier for China's new financial district plan in London; 7. American Enterprise Institute: China Global Investment Tracker; 8. Crain's Chicago Business: Construction to begin on Vista Tower; 9. Mingtiandi: Dalian Wanda sells 20% of units in USD 1 billion Chicago project; 10. Studio Gang: Jeanne Gang Wins 2016 Architect of the Year Award; 11. Bizjournals: Megaprojects: $1.6 billion Oceanwide Center to transform S.F.'s Transbay district; 12. Wikipedia: Foster & Partners; 13. Wikipedia: HSBC Building; 14. Financial Times: China property developers face setbacks in ambitious foreign push; 15. SCMP: Wanda on track with €272m sale of Madrid landmark building; 16. The Urban Developer: It's Over: Greenland and Brookfield Multiplex split over Sydney's tallest tower; 17. Financial Times: China braced for impact of property slowdown; 18. International Business Times: Plunging land sales and fall in developers' profits highlight challenges for China's property sector; 19. Nikkei Asian Review: How sustainable is China's overseas shopping spree?; 20. China Daily: China Vanke's 2015 profit surges; 21. Asia Society: Chinese real estate investment plays growing role in U.S. economy; 22. Park Avenue: Chinese developers could pump $38 billion into U.S. projects by 2020
Loved this article? Sign up for free to get Juwai China Market updates!