You've successfully copied this link.
The multilingual pitch
By Juwai, 13 April 2012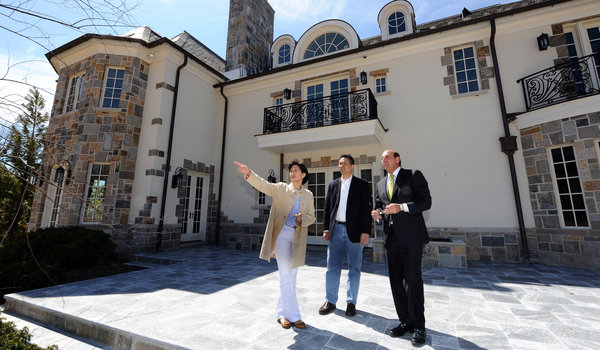 EXPATRIATE FLAVOR The broker Shawn Elliott, far right, shows a Brookville mansion to a Chinese couple. His listings are now in several languages.
A year and a half ago, receiving ever more inquiries from overseas clients, Shawn Elliott, the broker/owner of Shawn Elliott Luxury Homes and Estates of Woodbury, added a "translate" tab to his Web site, shawnelliott.com, enabling visitors to view his listings in Mandarin, Cantonese, Korean, Russian, Spanish, Portuguese, Vietnamese, Japanese, Polish, French, Italian and German.
Marcelle S. Fischler reports for The New York Times.
April 12, 2012
-- "We had a lot of foreign interest from different countries," Mr. Elliott said, "and we needed to be able to communicate at every level." Recently he went even further, installing a separate phone line for Chinese callers. Next week he will be speaking at a real estate conference in China about luxury homes in New York; he will also sit on a panel discussing $10 million-plus homes. For the occasion, he produced a Chinese translation of his listings magazine showcasing properties from $2 million to $20 million. An influx of foreign-born and non-English-speaking buyers has encouraged Long Island real estate companies and the Multiple Listing Service of Long Island in various efforts to accommodate them — not least in the enlisting of more multilingual agents. The real estate market may not have rebounded, but that hasn't kept deep-pocketed global buyers — lately from Russia as well as China — from pumping up sales beyond the East End, particularly in prime areas of Nassau County like the Brookvilles, Old Westbury, Syosset and Jericho, which are known for stellar schools. One multilingual agent is Maria Babaev, the managing director of the luxury portfolio international division of Laffey.com in Greenvale, who positions her listings on worldproperties.com and tracks visits and currency reports from Russia, China, Canada, Brazil, India and Britain. Thirty to 35 percent of her business is with overseas clients, she said. Ms. Babaev was born in Moscow, and by default a hefty portion of those overseas clients are from Russia. She recently sold three parcels totaling 11 acres in Old Westbury to a "prominent Russian businessman" who plans to finish the property's partially completed main house, which has 18,000 square feet and a modern design, and build a compound including homes on the other parcels for his family and business partners. She said another Russian entrepreneur had recently closed on a $2.65 million home in Old Brookville that he plans to live in while looking for land to build what he really wants. "My international exposure is what brings me to the table," Ms. Babaev said. With the trust factor of utmost importance, her fluency in Russian provides a comfort level. She hosts networking events and is active in groups like the Russian Nobility Association and the Russian Gift of Life. For foreigners, she said, the buying experience "is not just a real estate transaction," but a full-service introduction to the country and the community. She helps provide information about immigration lawyers, financial advisers, accountants, schools, summer programs and physicians. In the last two years, Ms. Babaev says, she closed on seven deals with Russian buyers in the $3 million to $5 million range, tallying a total $35 million in sales with $50 million in contract. She expects business to ramp up in the next 18 to 36 months. Her countrymen previously visited Manhattan to shop and perhaps invest in an apartment for use six weeks a year, but now "because they are moving their families out of Russia," she said, "the suburbs are coming into play." Similarly, Andrew Wu, an agent in the Port Washington office of Daniel Gale Sotheby's, and who grew up in Sands Point and speaks Cantonese, said: "A lot of Japanese, Korean or Thai or Indian, they all seem to gravitate toward an Asian or Chinese agent. We have similar likes and dislikes." Mr. Wu and Ting Wang, an agent fluent in Mandarin who often partners with him, advertise in The Chinese World Journal as well as on Zillow and Yahoo. "There are too many agents on Long Island in general," Mr. Wu said, "but when it comes to Asian agents, it is underrepresented. I can attract more buyers because they will feel more comfortable with me." As for Mr. Elliott, he has been videoconferencing with agents and buyers in China. "Instead of waiting for the Chinese to come to us," he said, he has "taken the initiative to go to them." In the last year, he added, more than 50 percent of his showings in the range of $4 million and up were to Chinese buyers. His percentage of Chinese clients rose to 60 in the price range of $7 million and up, and to 75 for homes costing $10 million and up. Jim Retz, the senior vice president for marketing and technology of Daniel Gale, estimated that overseas buyers accounted for as many as 10 percent of the company's transactions, and "even higher at the top end of the market." Some buy in Manhattan in addition to Long Island, he said. To accommodate non-English-speaking clients, Daniel Gale lists 24 languages spoken by its 600 sales agents, from Arabic to Serbian to Russian to Mandarin and Turkish. Its site also offers translations for its listing information into 13 languages and video tours in 5. "They can pick a sales associate based on their language capability," Mr. Retz said. Listings channeled to 20 Web sites worldwide make it even easier to search for a home in Old Westbury from Moscow or Beijing. While pundits banter about a trend toward renting, said Seth Foreman, the chief planner for the Long Island Regional Planning Council, "one of the groups attracted to homeownership, still, are immigrants." In Nassau County, the number of Asian-owner-occupied homes jumped to 22,121 in 2010, from 7,588 in 1990. In Suffolk, there were 9,972 Asian-owner-occupied homes in the latest census, compared with 3,911 in 1990.
Liked this article? Sign up for free to get Juwai Juwai Asia Market updates!