You've successfully copied this link.
China: US commercial properties? We buy those too
By Juwai, 15 June 2012
Chinese investors' appetite for US real estate knows no bounds it seems. Alongside Manhattan penthouse apartments, commercial developments such as hotels, office buildings and warehouses have also been at the receiving end of Chinese capital. Pan Kwan Yuk reports for the Financial Times. June 14, 2012.
According to Real Capital Analytics, mainland Chinese investors poured $1.1bn into US commercial property in 2011, more than six times the $16.6m invested in 2008. Compared to investments made last year by Canadians ($9.1bn), Germans ($2.8bn), Swiss ($1.9bn) and Britons ($1.4bn), investment flows from China hardly seems to be the force that many developers make them sound out to be. But to think that would be wrong.
Dan Fasulo, managing director at RCA, said his company's $1.1bn figure vastly understates the extent of Chinese investment as some investors buy property under business entities they've set up in the US. "The Chinese have been very good at hiding their investments," Fasulo told beyondbrics. "The $1bn figure does not take into account money that Chinese investors may have put with private equity funds such as Blackstone or Brookfield to invest in US properties. Nor does it take into account the tens of billions of dollars that Bank of China has been lending over the past five years to US companies with significant property holdings."
Ida Liu, head of Citi Private Bank's North America Asian clients business, said her team has been increasingly fielding inquiries from mainland Chinese investors looking for real estate investment opportunities in the US. "Asian ultra high net worth individuals on average hold one-third of their assets in real estate," she told beyondbrics. With the renminbi still up more than 4 per cent against the US dollar since the start of 2010 despite its recent dip and the sluggish real estate market back home, yield-seeking investors and companies see bargains to be had in the US – where rents in cities such as New York have continued to climb. Hotels have been particularly sought after by Chinese investors, who are looking to cash in on the growing number of mainlanders traveling abroad.
Just last month, HNA Property Holding, a subsidiary of China's fourth largest airline group, sealed a deal to buy the Cassa Hotel near Times Square in New York for $126m. The deal for Cassa comes after HNA paid $265m for 1180 Avenue of the Americas, a 23-storey office building in Manhattan. Outside the mainland, Hong Kong billionaire Cheng Yu-tung's family also bought five U.S. luxury hotels in 2011, including Manhattan's iconic Carlyle, for $570m. So who are some of the top Chinese investors in US commercial properties? Here's a handy list courtesy of RCA (Click to enlarge)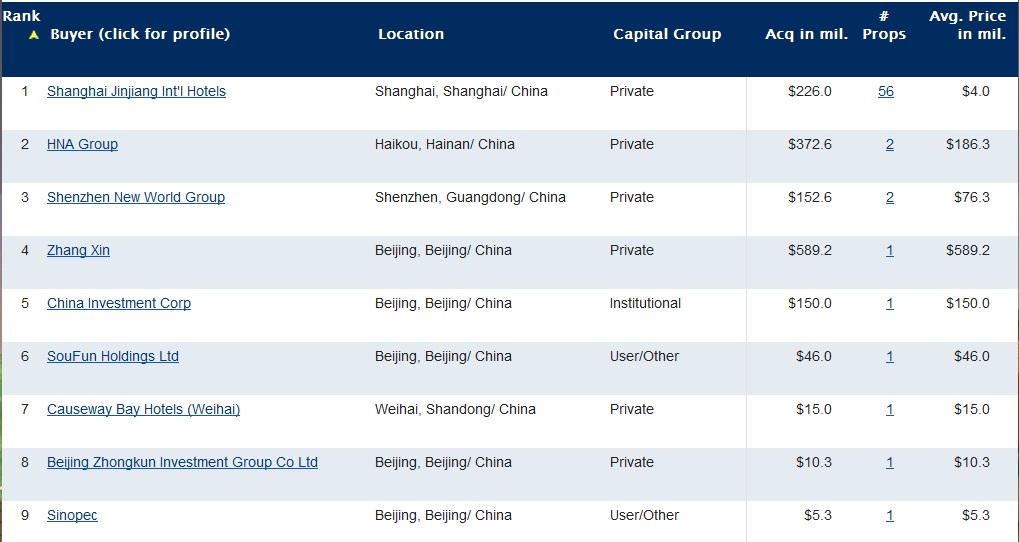 And there is no shortage of companies and groups looking to help developers tap into more of this Chinese capital. For those interested or just merely curious, an outfit by the name of Artisan Business Group is holding its 2nd Chinese Investment in the US Real Estate & EB-5 Finance Forum on June 21 in Los Angeles.
Liked this article? Sign up for free to get Juwai Juwai Asia Market updates!