You've successfully copied this link.
Hong Kong drives Chinese real estate buyers overseas
By Juwai, 08 January 2014

They say that what happens in Vegas stays in Vegas. The same isn't true of Hong Kong.
The government of the latter city is trying to limit real estate investments by mainland Chinese, in part through a new 15% tax. As a result, mainland Chinese buyers are increasingly flying past Hong Kong, on the way to invest their funds in more welcoming real estate markets.
The new demand is keeping real estate agents busy all over the world, in places as far apart as the UK, the US, Thailand, Australia and many countries in between.
Until recently, mainland Chinese – those from the 1.35-billion person People's Republic of China – were snapping up luxury homes in Hong Kong, accounting for as much as 43% of all new sales.
In fact, their purchases were blamed for crowding out native Hong Kong residents from their own real estate market. When the city started levying a 15% tax on foreign home buyers, no one had to ask which foreigners it was targeting. (Because of Hong Kong's history of British administration, it is part of China but operates under its own system of government.)
"Mainland Chinese have lost the ticket to buy properties in Hong Kong, now that tightening measures are in force," David Hui, overseas sales director at real estate agency Centaline, told Bloomberg. "If they want to invest in property, they now need to go overseas."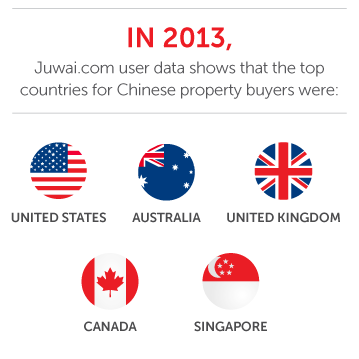 That's why Shanghai resident Christina Chen and her husband are visiting a property expo to look at apartments in London's Olympic Park.
"We can only see pictures of the project now so that's why we have to go to London to take a look at the environment of the building," Chen told Bloomberg. She plans to fly to London to see the property first-hand.
"The return on investment is much higher in London than in China and Hong Kong," she said.
On a related note, as the Chinese increasingly look towards properties abroad, their preferences for luxury shopping are also moving beyond Hong Kong towards other countries overseas – a recent December 2013 survey by Boston Consulting Group shows that Hong Kong has dropped from the list of 15 most popular destinations for the Chinese.

Approximately 1,000 middle-class Chinese citizens who took part in the survey showed a preference for more exciting shopping bounty to be found in New York, Paris, Milan or Japan. When asked, many cited Hong Kong being stagnant and boring in its shopping offerings, and that it lacked a certain panache linked to cities that are home to big fashion names.
How to work with Chinese luxury real estate buyers
Buyers displaced from Hong Kong to these markets tend to be luxury investors. At Juwai.com, we recommend the following steps to engage with these buyers:
Don't just list your properties on Juwai.com. Upgrading your listings to our Juwai Luxe will ensure they are seen by the right audience. It comes with free, professional human translation of the property description, as many as 20 photos and 2 floor plans, and your company logo, and contact information right on the listing page.
Attend the right property expos in China. The team at Juwai Event Services can ensure you attend the best property expositions in China for your target buyer. Our years of experience enable us to provide you with full-service support, including booth creative and design, oversight of installation, professional translation services, booth staff, flyer creative, printing advice, and service for visiting representatives.
If you are selling new properties, be sure to list them via our Global New Developments. Benefits to you include professional Chinese translation of your listing, up to 20 photos and 10 floor plans per development, mapping of your listing with surrounding local information in Mandarin, currency and metric conversions, as well as integration with both Chinese and Western social media.
Related Links:
Quote of the Week: Chinese house hunt all over the world
Quote of the Week: Chinese are the new Russians
9 ways to tell people you market to Chinese buyers
Why a super-luxury expo may be the best China event for marketing your property
Liked this article? Sign up for free to get Juwai Juwai Asia Market updates!