You've successfully copied this link.
The evolution of Chinese luxury consumers
By Juwai, 16 July 2014

China's tremendous growth spurt is heralding a new age of Chinese luxury consumers.
As China's purchasing power rises, a new and evolving luxury consumer segment is emerging – looking beyond the tangible luxuries in life and increasingly venturing out for new and unique world possessions and experiences.
Let's take a look at a few luxury sectors making top headlines this month:
Luxury Goods
De Beers says global demand for diamonds will increase 4.5% in 2014, largely due to China's growing middle class.3
Before De Beers began marketing "A diamond is forever" in China circa 1993, jade and gold were the norm for wedding gifts.5
Now, Chinese buyers are De Beers' second largest diamond consumers (13%)3, and some now associate jade with "old people".

Luxury Travel
Hurun reveals that Chinese super tourists are now on the hunt for unique, adventurous and exciting travel experiences.
From camping in the remote temples of Cambodia to philanthropic holidays in the Amazon, bespoke experiences are how China's elite are flaunting their wealth these days.6
7% of China's super tourists have even included space travel in their next 3 years of travel plans.2
We kid you not – 300+ Chinese recently paid US$96,000 each on Taobao.com to be shot into space for a 5-minute cosmic adventure.1
Luxury Property
China's wealthy are increasingly looking internationally, and the majority of affluent consumers in China are now more likely than five years ago to purchase a lifestyle property – including making it as their primary residence.4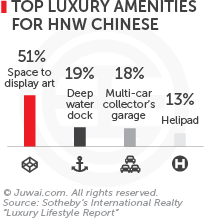 What do Chinese HNW lifestyle property investors want?
54% want a waterfront property
43% are looking for a farm or ranch
37% are seeking a vineyard or winery
In terms of luxury amenities:
51% want space to display art
19% a deep water dock
18% a multi-car collector's garage
13% desire to have a helipad
Major Chinese lifestyle magazines are quick to cash in on this trend by regularly featuring luxury properties.
This includes China Real Estate magazine and Home & Living Trends, which both ran exclusive features on prime properties from Harrods Estate.
With such rapidly evolving Chinese consumers, who knows what's next – real estate investment on Mars?
Sources: 1. SCMP; 2. Hurun "2014 Chinese Luxury Traveller" Report; 3. SCMP; 4. Sotheby's International Realty "Luxury Lifestyle Report"; 5. Forbes; 6. Wealth-X Luxury Sentiment Survey
Liked this article? Sign up for free to get Juwai Juwai Asia Market updates!