You've successfully copied this link.
China's RMB and its rising dominance
By Juwai, 30 July 2016

As China's RMB grows from strength to strength, Chinese are increasingly eyeing the world and opportunities overseas – something for real estate agents to salivate over.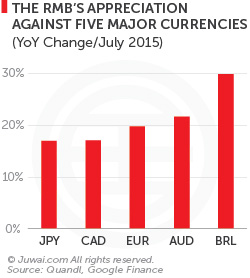 So, how strong is the RMB of today? Between July 2014 – July 2015, the RMB strengthened by more than 15% against major currencies during the past year.
China's RMB appreciated significantly y-o-y against the Brazilian Real (29.8%), Euro (19.7%), Canadian Dollar (17.0%), and the Japanese Yen (16.9%).
Simply put, Chinese buyers can make their money go much further.
And, with the domestic stock market being so volatile, Chinese investors are taking their increased purchasing power overseas, with their sights set firmly on property.
Robust RMB drives overseas purchases
Australia is a prime example. The Chinese yuan appreciated as much as 21.8% against the Australian Dollar between July 2014 – July 2015, which means a Chinese buyer can snap up an Australian property for ¥782,000 when it would have cost ¥1 million a year ago.
Now that's a sweet deal – and Chinese know it.
According to KPMG1, Chinese investment in Australian commercial real estate alone reached US$3.42 billion in 2014, increasing four-fold compared with 2013.
There's no debate that buyers from mainland China have taken the crown as the leading group of overseas investors in Australia.
Elsewhere in the world though, Europe is a destination in the limelight, where the RMB has strengthened 20% against the Euro since 2012.
Between 2013 – 2014, Chinese investors spent a total of US$5.5 billion on real estate investments, compared with US$614 million between 2000 and 2012.2
Agents evolve to capture Chinese interest
While the technicalities of international exchange rates can be complex, widespread reports show property agents are springing into action to cater to this market.
Besides online advertising, Bloomberg has also reported of real estate agents setting up property and shopping tours in Tokyo and Osaka, solely for Chinese investors keen on expanding their property portfolio in Japan.3
Similar stories have emerged in Singapore4, Australia5, and the US6, where agents are offering custom tours to introduce Chinese investors to a wide range of lifestyles and properties.
One such savvy agent is Juwai customer Erik Coffin of LA-based Gotham Corporate Group, who's offering cashed-up Chinese a tailored tour of luxury villas in Las Vegas for $250,000 – complete with private jet, Rolls Royce chauffeured transportation, wealth management services, and even plastic surgery consultations and the chance to pick their child's gender, if required.
Looking long-term, this market has legs to go higher.
Juwai data estimates that $661 billion of new Chinese money will flow into international residential real estate markets in coming years.7
At more than three times the revenue that Apple generated globally in 20148, that's probably the most significant cash pie on offer in the global economy – one that any astute agent would sit up for.
And with China loosening its tight rein on outbound investment controls combined with the powerful RMB, it looks set to be another exciting year ahead for agents focused on the China market.
Sources: 1. Mingtiandi; 2. Rhodium Group, Baker McKenzie and CICC; 3. Bloomberg; 4. Maxxeli Blog; 5. The Sydney Morning Herald; 6. Bloomberg; 7. Forbes; 8. Statista.com
Liked this article? Sign up for free to get Juwai Juwai Asia Market updates!