You've successfully copied this link.
Easier visa policies spur global Chinese property demand
By Juwai, 29 November 2016

Chinese tourists are forecast to spend $422 billion overseas annually by 2020.1
This projected leap from the $229 billion lavished in 20152 has made governments around the world sit up and take notice, with many leveraging this highly lucrative market by making it easier than ever for Chinese travellers to apply for visas.
That's because easing visa rules not only opens a country up to a growing and lucrative market of Chinese tourists, but it opens the doors to investment by Chinese individuals and companies. In other words, visas for Chinese have become the cog driving an investment boom worldwide.
Take the US as an example, where visa relaxation in late 20143 saw a subsequent increase in Chinese visitors and a steady uptick in direct investment by Chinese firms, which has seen total investment of $18.4 billion in H1 2016 already exceed the $15.7 billion recorded in the whole of 2015.4
Chinese visitor arrivals to the US surged 68% in December 2014 and January 2015 following the unprecedented US visa policy change.5
Because of the close link between visa policy and tourist spending and investment, countries all over the world have stepped up their efforts to make it easier for Chinese to qualify for travel visas.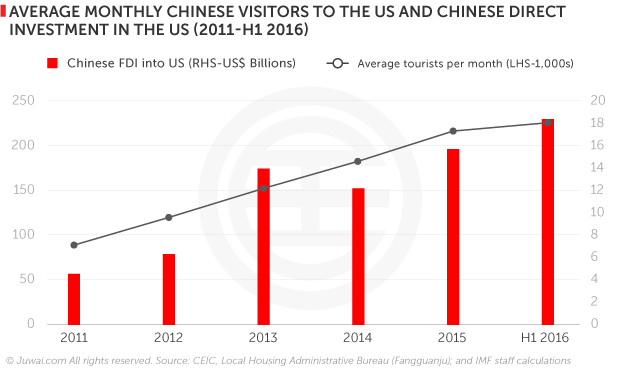 Japan welcomes 5.01 million Chinese visitors YTD
Japan, already a raging hotspot for Chinese tourists and investors, has seen the benefit of rolling out the welcome mat to mainland China visitors – and the Land of the Rising Sun has decided it wants more. Having eased visa restrictions on Chinese travellers in January 2015, Japan has once again relaxed its visa rules for Chinese from 17 October 2016 onwards.7
The new visa policies has seen the Japanese government increasing multiple-entry visa lengths6 for businessmen, academics, and artists (cultural and intellectual figures) from five years to ten years, as well as making it easier for Chinese graduate students and alumni of universities of China's Ministry of Education to apply for visas.7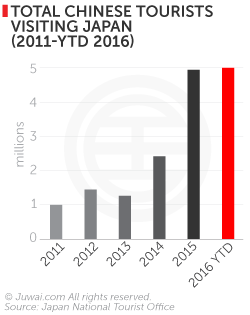 Interestingly, Japan's Ministry of Foreign Affairs (MOFA) also announced that it would waive the visa fees for five-year multiple-entry visa applicants if Chinese visitors enter Japan (for the first time upon receiving their visas) via either Fukushima, Miyagi, or Iwate – three earthquake-stricken areas in Japan – and stay at least one night there.7
The huge influx of China tourists into Japan so far this year – 5.01 million at the end of September 2016 vs. 5 million for the whole of 20158 – indicates the Japanese authorities are onto a goldmine with their new policy.
And with the influx of foreign visitors boosting the economy, the Japanese government is also looking into a fast-track application scheme to make it easier for skilled professionals to get permanent residency, which may spur a further wave of Chinese investment in Japan.9
6 other notable visa policy changes
Besides Japan, many nations around the globe have also reformed or relaxed their visa rules in hopes of sparking Chinese interest to visit them. Here are six of our top picks:

Australia
Australia is also making it easier for Chinese to apply for visas than ever before. Chinese companies and individuals invested $15 billion in Australia in 201510, up 60% y-o-y and the second highest inflow ever recorded, making it the second most popular investment destination for Chinese. With this in mind, the Chinese government will begin issuing 10-year multiple-entry visas granting visa holders a 3-month stay in Australia per entry at the end of 2016, adding to the Guardian visa scheme – targeted at students and their guardians – that was launched in July 2016.

The United Arab Emirates (UAE)
The UAE agreed to offer Chinese visitors visas-on-arrival from early September 2016 onwards11, even as the Middle-Eastern kingdom stepped up its efforts to boost a flow of tourists that grew 29% y-o-y to 450,000 visitors, and who are already driving demand for properties in Dubai and Abu Dhabi that saw $273 million in sales in H1 2016.

The Philippines
A favourite playground for China's growing outbound tourists, the Philippines may soon offer visa-free travel for Chinese tourists in the very near future, thanks to the Filipino government seeking to boost the number of Chinese tourist arrivals to one million by the end of 2017.12 The Philippines saw 491,000 Chinese visit in 2015, so get set for a major increase in Chinese visitors the future.

Malaysia
Following the success of its visa-free entry campaign for Chinese visitors from 1 March till 31 December 2016, the Malaysian government seeks to continue riding the boom of tourist inflows from the Middle Kingdom by extending it for another year till 31 December 2017.13 Malaysia has already greeted 1.1 million visitors from China as of the end of August 2016 – a 26.3% y-o-y increase – and the government is targeting 2 million annual Chinese visitors by the end of 2016.13

Vietnam
As of 2017 onwards, Chinese short-term and business travellers can apply for e-visas online and collect them upon arrival, easing the application process and opening Vietnam to the vibrant tourism market that is right at its doorstep.14 Besides that, Vietnam's northern province of Quang Ninh – home to the famed Ha Long Bay – also announced visa-free entry for Chinese travelling in groups and by car effective 1 January 2017. This is timely, seeing as more than 2.2 million Chinese have already visited Vietnam so far this year, a 55% y-o-y increase that reflects growing Chinese interest in Vietnam.15

Turkey
Jumping onto the Golden Visa bandwagon pioneered by Spain, Portugal, and Greece, Turkey has rolled out plans for an immigrant investment programme of its own. The Turkey Golden Visa will offer citizenship to foreigners investing between €500,000 to €1 million in property16 as it attempts to add further impetus to demand from the foreign buyer market, which grew 19% y-o-y in 2015.17
Easier policies = bigger international real estate investment
All these visa updates and reforms means that the global outlook for property investment from Chinese buyers continues to look strong, as many countries are well-placed to capitalise on this visa-driven tourism and ivnestment boom. Case in point: New Zealand
In January 2016, the New Zealand government relaxed rules on multiple entry visas, extended validities, and offered longer business visas. The results? Arrivals from China grew 24% y-o-y YTD by the end of September.18
More importantly, those Chinese visitors spent $682 million in New Zealand – a 14.7% y-o-y increase that accounted for 16.1% of total international tourist spending, compared to 5% in H1 2010.19
And real estate markets in Kiwi-land have seen the benefit – searches for New Zealand property by Chinese buyers on Juwai.com have skyrocketed at the same time as New Zealand's property markets have boomed.
Total enquiries and views for New Zealand properties on Juwai.com were up 80% and 127%, respectively, y-o-y, in Oct 201620, while average prices in New Zealand grew 11% y-o-y at the end of August 2016.21
This is another incontrovertible link between visa policy relaxation for Chinese visitors and increased investment and real estate deal flow in the countries concerned. Recent trends, such as those playing out in Japan and New Zealand, offer further credence to our view that Chinese demand for overseas real estate is becoming a truly global phenomenon.
And if the $229 billion spent by Chinese tourists abroad in 2015 has sprung governments across the world into action, then the $220 billion projected to be invested by Chinese in overseas real estate by 202522 is an even more attractive reason to target this vibrant and increasingly global market.
Sources: 1. GFK: Chinese tourists spend 229 billion USD in 2015; 2. China Daily: Chinese tourists expected to spend $422b overseas by 2020; 3. US State Department: The United States and China to extend visas for short-term business travelers, tourists, and students; 4. Rhodium Group: Chinese FDI in the US: Tripling down on America; 5. US State Department; 6. ECNS.cn: Australia, U.S. among countries offering Chinese 10-year visa; 7. Yibada: Japan will ease visa regulations for Chinese visitors again in October 2017; 8. Japan National Tourism Organization: Tourism Statistics; 9. Japan Times: Japan's permanent residency rules may be loosened to lure global talent; 10. The Guardian: Chinese investment in Australia jumps 60% to $15bn; 11. The National: UAE eases visas for Chinese visitors; 12. ABS/CBN News: DOT eyes visa-free policy for Chinese tourists; 13. New Straits Times: Visa exemption for Chinese tourists extended to Dec 31, 2017; 14. New visa policies to draw increasing numbers of Chinese tourists to Vietnam; 15. VN Express International: Vietnam named a favourite destination for Chinese tourists; 16. Turkey Prime Minister Office: 'Golden Visa'; 17. Property Showrooms: Turkey launches Golden Visa residency scheme; 18. COTRI: Newly-published government statistics show just how important Chinese outbound tourism has become to New Zealand's economy; 19. Tourism New Zealand: Market Trends; 20. Juwai IQ Data; 21. Guardian: New Zealand tops world house price increase; 22. Auction.com: Top four reasons Chinese buyers invest in U.S. real estate;
Liked this article? Sign up for free to get Juwai Juwai Asia Market updates!