You've successfully copied this link.
Juwai and Sotheby's release Chinese buyer insights report on Canada
By Juwai, 17 March 2017

Where are Chinese investors looking in Canada, and what's driving Chinese to buy there?
Knowledge is power, as they say, and it's essential that anyone wanting to succeed with Chinese buyers understand them first.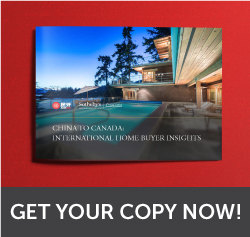 With that in mind, Juwai recently teamed up with Sotheby's International Realty Canada to release the "China to Canada: International Home Buyer Insights" report – the only Canadian report to disclose trends and insights from prospective homebuyers from mainland China.
Besides including trends in target pricing, motivation, and levels of interest between conventional and top-tier real estate in Vancouver, Calgary, Toronto, and Montreal, the report also notes differences in the impact of the recently introduced 15% provincial property transfer tax on foreign buyers in Metro Vancouver.
Report highlights include revelations that China buyer demand for Canadian property not limited to luxury real estate, as well as the fact that education and personal use are the two main motivations leading real estate buyers from China to Canada.
According to Juwai.com CEO Charles Pittar, "Barring unforeseen circumstances, we expect Chinese real estate investment in 2017 to come close to matching that of 2016. That's a tremendous boon for the country and is more than double the $16.4 billion annual value of Canada's number one export to China, agricultural products."
"In many cities, data on foreign buyers has been limited – that's meant that assumptions have been made about this cohort's motivation, influence, and impact on Canada's largest real estate markets," says Brad Henderson, President and CEO of Sotheby's International Realty Canada.
"This report sheds light on some of the emerging trends in real estate interests and intentions amongst international Chinese homebuyers for 2017. It dispels myths and provides more clarity with data," adds Henderson.
Download the report here or find out more about Sotheby's International Realty Canada.
Liked this article? Sign up for free to get Juwai Juwai Asia Market updates!