You've successfully copied this link.
Malaysia's education is attracting Chinese buyers – here's why
By Juwai, 29 November 2017

172,886 international students made Malaysia their study choice at the start of 2017.1
By 2020, Malaysia hopes to attract 200,000 international students2, and then bump up that number to 250,000 foreign students by 20253 by centering itself as an education hub.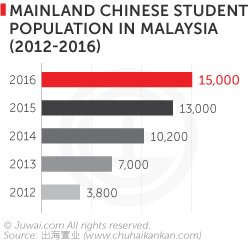 Malaysia is rapidly emerging as an education hub, especially when it comes to higher education, and students from mainland Chinese are on the rise.
Already, 2016 saw 15,000 mainland Chinese students choosing Malaysia for their overseas education, up 15.4% y-o-y from 2015.4
Considering there were merely 3,800 students from China furthering their studies in Malaysia in 2012, that's a big leap in the span of four years.4
We delve in to find out why Chinese student interest in Malaysia is on the rise.
Malaysia opens up to international investment and boosting standards
Malaysia is opening its education sector to international investment, and that's attracting some of the world's best universities, such as Monash8, Nottingham9, and Reading10, as well as renowned education companies, including Marlborough College11 and GEMS Education12, to set up in Malaysia.
As Malaysia charts an investment influx, so Malaysia's education standards are improving, leading UNESCO – the international authority on education quality – to rank Malaysia as being 9th in the world in terms of the quality of its post-secondary education13, putting it on a par with established markets like Australia, UK, and the US.
Most recently, the Malaysian education policy and Malaysian Education Blueprint 2013-2025 was also lauded by the Organisation for Economic Cooperation and Development (OECD) based on its Programme for International Students Assessment (PISA) in 2015.14
5 reasons studying in Malaysia draws Chinese investors and students
Malaysia's increasingly attractive range of education options is resonating with Chinese investors, for whom education is one of their primary motivating factors when buying overseas property. We take a closer look at Malaysia's education sector to see why it presents a compelling investment case for buyers from China:

#1 Cost and affordability
China is now one of the most expensive places for education, thanks to soaring demand for international standard education, according to an ExpatFinder.com research into 707 international schools spread across 98 countries.15
Median tuition costs of $36,400 per year for Level 6 schooling in China, ranking it as the most expensive of 98 countries surveyed, according to the ExpatFinder.com survey.15
In comparison, the survey showed that median costs for the same level of schooling in Malaysia are some 45% cheaper.15

Malaysian universities also represent great value compared to more established universities in traditional markets like the US and UK.
Taking a BSc in Business & Accounting at Monash University Malaysia merely costs $8,900 per year in tuition16, compared to $23,700 for the same degree at London School of Economics17, and $28,370 at the University of Texas.18

#2 International exposure
Exposure to foreign curriculum whilst living in a cosmopolitan, international environment ranks highly on Chinese parents' wishlists when sending their children overseas, and this is where Malaysia scores exceptionally highly.
This is because while Bahasa Malaysia, which literally translates into 'Malaysian Language', is known as Malaysia's official language, English is widely used in Malaysia, and is even recognised as an official language in the East Malaysian state of Sarawak.
As such, most Malaysians are multilingual, with the ability to speak at least the two languages of Malay and English with moderate fluency.
In fact, most Malaysian Chinese are often trilingual, as Mandarin and a vast array of Chinese dialect are also widely spoken among Malaysian Chinese, including Cantonese, Hokkien, Hakka, Hainanese, and Hokchew.
Additionally, with more and more international students choosing to further their studies in Malaysia, this offers Chinese students an even wider exposure to people of different nationalities and cultures, including Central Asian countries and the Middle East.19
This melting pot of culture and languages present an ideal environment for Chinese students, who seek to enhance their English skills or pick up another language, yet desire the comfort of knowing they will still be able to communicate in Chinese while living in Malaysia.

#3 Cultural similarity
International exposure is one thing, but Chinese also like home and familiar cultural comforts, something which Malaysia has in abundance.
Like Singapore, Malaysian Chinese make up approximately a quarter of the population20, and ranks as the second-largest overseas Chinese community in the world, after Thailand.21
Asides from the convenience of having similar languages (as mentioned above), mainland Chinese students can also find easy access to Chinese food, entertainment (music, movies, books, etc.), and more. All these make it easier for Chinese students to adapt to student life in Malaysia, and helps them consider it as a home away from home.

#4 Proximity and connectivity
Malaysia is but a 5-hour flight from Shanghai or 4 hours from Shenzhen, which means Chinese students are closer to home, compared to other top education hotspots, such as the UK or the US. Furthermore, airlines have been boosting their flight links from Malaysia to China's Tier-2 and Tier-3 cities as well.
Malaysian budget airline AirAsia is already offering thrice-weekly flights between Shenzhen and Langkawi22, while Malaysia Airlines (MAS) has unveiled a new expansion plan that will serve 35 additional flight routes between China and Malaysia.23
This includes new direct links from Nanjing, Fuzhou, Chengdu, and Chongqing to Kuala Lumpur, non-stop flights linking Penang with Shenzhen and Shanghai, as well as a brand-new route from Tianjin to Kota Kinabalu.23

#5 Accessibility
The Malaysian government has been actively wooing China visitors, even going as far as to run a special campaign offering visa-free entry to mainland Chinese visitors to Malaysia from March 201624 till December 2017.25
Besides that, the Malaysian government has also streamlined their visa processing system for China visitors, including the significant implementation of e-visa services, which offers visa approval within 24 hours26, as well as the set-up of five visa processing centres in China (Shanghai, Beijing, Guangzhou, Kunming, and Xiamen) to date.27, 28
This means travellers from China are now able to easily apply online for either an eVisa (Electronic Visa) or eNTRI (Electronic Travel Registration and Information) when visiting Malaysia29, thus greatly expediting their entry into Malaysia.
Since then, these improved measures have seen China arrivals in Malaysia grow – 2.1 million Chinese visited Malaysia in 2016 alone30, up 26.7% from 2015, according to Tourism Malaysia.31, 32 By 2020, Malaysia targets to attract 6-8 million visitors from China.27, 29
Chinese discover hidden value in Malaysia real estate
Malaysia's case for education-minded is undoubtedly strong, but the real estate market is equally attractive from an investment point of view.
Prices: At $1,253 per sq.m in Kuala Lumpur (as of July 2017)33, Kuala Lumpur is an eminently attractive choice from the point of view of pricing when compared with the average prices of $7,967 per sq.m. in Beijing34 and $7,306 per sq.m. in Shanghai.35

Strengthening RMB: The RMB has appreciated 16% against the Malaysian Ringgit since January 2009, thus increasing Chinese buyers' purchasing power, and making Malaysian property an even better bet.36

Freehold: Malaysian real estate can be bought on a freehold basis, something unheard of in China, where the government keeps ownership rights to all land. The added security of having perpetual ownership is a huge draw for Chinese.
Let's not forget Malaysia's strong growth potential and its MM2H foreign residency scheme, which is one of the easiest and most affordable foreign residency scheme to obtain within the region.
4 tips to leverage education to market property to Chinese
Taken together, all these factors are making Chinese buyers sit up and take notice of the many attractive education and real estate opportunities in Malaysia. We end this piece with 4 quick tips to help you leverage education in your marketing to Chinese buyers:

#1 Promote proximity
Location is everything, so if your listing is close to a great school or university, then make sure this rings out loud and clear in your pitches to buyers from China.

#2 Dazzle with detail
Clients will want detail on curriculms, pass rates, tuition fees, class sizes, application processes, and much more. Do your homework in advance, so your Chinese clients don't have to.

#3 Compile contacts
Help your Chinese clients get up to speed on the local market by putting them in touch with immigration consultants, mortgage brokers, lawyers, and school admission officers. This not only saves them time, but also raises the chances of swiftly completing a deal with Chinese homebuyers.

#4 Stand out with social media
Social media isn't just one way of promoting your business in China, its increasingly the way to get in front of Chinese buyers, so keep a steady stream of projects, plus information on education opportunities, to pique Chinese buyers interest and boost enquiries.
Sources: 1. Oxford Business Group: International cooperation pushes Malaysia towards higher education goals; 2. New Straits Times: M'sia targets 200,000 foreign students by 2020, sees education as main revenue contributor; 3. The PIE News: Malaysia turns up promotional drive amid global turbulence; 4. 出海置业 (www.chuhaikankan.com); 5. The Sun Daily: Malaysia has one of highest proportions of international students pursuing higher education; 6. New Straits Times: International student enrolment up by 12 percent last year: Higher Education Ministry; 7. Malaysian Digest: Government intensifies efforts to draw foreign students to Malaysia; 8. Monash Malaysia; 9. Ukuni Net: University of Nottingham is the highest rated University in Malaysia; 10. BBC: Reading exports university to Malaysia; 11. BBC: Marlborough opens international school in Malaysia; 12. The National: Gems Education to expand in India and South East Asia; 13. Study Malaysia: Malaysia ranks 9th place among international students for tertiary education; 14. New Straits Times: Malaysian education policy, blueprint earn plaudits overseas; 15. SCMP: China has highest international school tuition fees, while Hong Kong takes fifth place, survey shows; 16. Monash University Undergraduate Fees; 17. LSE: BSc Accounting & Finance; 18. Accounting Degree: Best accounting schools in US; 19. WENR: Japan, Malaysia, Taiwan, and South Korea remap regional student flows; 20. Department of Statistics Malaysia, Official Portal: Current Population Estimates, 2014-2016; 21. China Whisper: 6 places with strong Chinese communities outside mainland China; 22. TTG Asia: Malaysia proffers more lesser-known destinations to Chinese visitors; 23. Xinhua: Malaysia Airlines to launch more direct flights to China; 24. China Daily: Visa-free entry for Chinese tourists in Malaysia; 25. New Straits Times: Visa exemption for Chinese tourists extended to Dec 31, 2017; 26. Tourism Malaysia: Malaysia launches e-visa for Chinese tourists; 27. The Sun Daily: Nazri: Malaysia targets 8m Chinese tourists by 2020; 28. The Star Online: Great push for China tourists; 29. New Straits Times: Big jump in visa applications from China, India after e-visa services implemented; 30. Tourism Malaysia: Malaysia's 2016 tourist arrivals grow 4.0%; 31. Tourism Malaysia: Malaysia registers 25.7 million tourists in 2015; 32. Free Malaysia Today: Tourism brought in RM73.3 billion in 2016, says Nazri; 33. Property Guru: Kuala Lumpur Real Estate Prices; 34. Sohu: 降了!真降了!6月北京çš"æˆ¿ä»·çœŸé™äº†ï¼å¿«çœ‹çœ‹ä½ å®¶çš"房贬值了多å°'!; 35. Fang.com: 6月上海房价地图出炉 æ–°æˆ¿æˆäº¤å‡ä»·è·Œç ´5万; 36. XE.com: CNY/MYR Cross-rates;
Liked this article? Sign up for free to get Juwai Juwai Asia Market updates!