You've successfully copied this link.
Thailand property enquiries saw record highs during Q3
By Juwai, 11 October 2018

Thailand property and real estate enquiries from Chinese buyers and investors saw record high levels during the three months ending September 2018.
Carrie Law, CEO and Director of Juwai.com, China's number one international property website, said: "Third-quarter data showed that Chinese buyer inquiries for Thailand real estate had reached a new high."
"Inquiries during the third quarter were 29.7% higher than the previous quarter, and more than 215% higher than during the same period in 2017."
"In part, the strong results can be attributed to an unusual surge of enquiries during August. The overall effect has been to push enquiries in the third quarter more than twice as high as during the same quarter a year earlier," she added.
"We have never seen Thailand property buying enquiries so high. This reflects strong Chinese demand for Thailand property, combined with the excellent properties from Thai developers being offered by Juwai.com."
Thailand's Ranks First for Golden Week Travel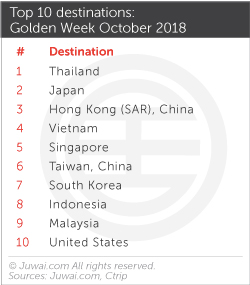 The strong property demand data from Juwai.com was reinforced by data from other travel industry sources that showed Thailand was ranked number one among global destinations during October's Golden Week.
Law added: "We think most people in Thailand have been too negative."
"In reality, Chinese travel industry authorities reported that Thailand was the top destination for Chinese tourists during Golden Week."
"Japan was expected to take top ranking, but it lost out due to the large number of cancelled flights and other cancelled arrangements because of typhoon Tanmei."
She added that Chinese tourists traveled to more than 100 countries and more than 1,000 top destination cities around the world this Golden Week.
"Thailand retained its ranking as the top destination for Chinese tourists, thanks to its good links to China, relative affordability and appeal to both group and individual travelers. The most popular destinations in Thailand included Bangkok, Pattaya, Phuket, and Chiang Mai.
Law said: "The Thai government deserves credit for setting up special visa lines at five airports, and improving the regulations and oversight of the tourism industry so another boat accident does not take place."
If you're a Thailand-based real estate developer or agency and you need Chinese buyers, contact Juwai.com now.
Liked this article? Sign up for free to get Juwai Juwai Asia Market updates!