You've successfully copied this link.
High prices not deterring Chinese property buyers from investing in South Korea
By Juwai, 01 December 2020

Real estate prices in South Korea is exploding especially in Seoul but property investors from China are not discouraged.
The number of foreigners buying up homes in South Korea has been on a steady rise over the last five years with Chinese nationals making up nearly half of such home transactions. Although diplomatic relations between South Korea and China have been tense at times historically, this has not deterred Chinese buyers from investing in the country's residential property market.
During the first nine months of 2019, about six out of 10 foreigners who bought residential properties in Korea were Chinese. They purchased 1.3 trillion won (approximately USD1.8 billion) worth of residential properties, three times more than Americans' home transactions of 425.9 billion won.1
And in the first five months of 2020, Chinese investors bought more apartments than any other foreign group. They purchased 13,573 units or 58 per cent of all apartments bought by foreigners while Americans only bought 4,282 units.2
Market observers say the recent surge in foreigners' demand for Korean homes is due to skyrocketing local housing prices which is creating a property bubble. Despite the Korean government's introduction of a slew of measures to rein in property speculation such as taxing properties in overheated areas at higher rates and charging a higher acquisition tax for those owning one or more apartments, demand has not dampened.3
Juwai IQI's data shows Chinese buyer inquiries for South Korean property increased about 180 per cent in the first quarter this year compared with the fourth quarter of 2019. Enquiries then dipped in the second quarter due to the outbreak of COVID-19 but then bounced back, reaching about the same level in the third quarter as in the first.
Seoul real estate provides great yields
Chinese who invest in South Korea cite investment as their prime motivation. They are attracted by the good returns on investment (ROI) and capital growth especially in Seoul. Returns from the capital city's prime real estate are immensely attractive. Even the South Koreans recognise this which is why over 85 per cent of South Korea's household wealth goes mostly into real estate.4
To illustrate the lucrative ROI, in 1977, a 1,000-square-foot condominium in Apgujeong-dong, located in the heart of Gangnam, was worth approximately USD14,000; in 2020, the same condo has increased in value to USD2 million. For the owner, this means a handsome return of 14,286 per cent, or 330 per cent in annualized return over 43 years.5
Why Chinese invest in South Korean real estate
In a survey carried out by Juwai in 2017, nearly 60 per cent of Chinese respondents perceive South Korean property to be a sound investment. Over half of them also believed South Korea to be a safe place to reside in and consider the South Korean lifestyle to be attractive and appealing, especially among Chinese millennials.
Chinese' love for South Korea was in part driven by K-pop, Korean dramas, and Korean fashion which has fuelled the Hallyu phenomenon - also known as the Korean wave - that has been sweeping across China and the world. The term "Hallyu" was coined in 2001 by the Chinese media. The boy band BTS which has won several American music awards, for instance, has fans all over the world and is a by-product of Hallyu. Same applies to the many Korean TV dramas that have captivated households across Asia. Even kimchi is now very much a part of the international gourmet lexicon.
South Korean universities and colleges also attract many Chinese students who, in 2019, accounted for more than 44 per cent of total foreign student intake with 71,067 students enrolled in degree programmes.6 Education has always been a great driver behind Chinese buyers' reason to purchase foreign homes to accommodate their children studying overseas.
State of real estate in South Korea
Despite a series of government cooling measures, experts expect house prices to maintain their upward trend, especially in Seoul which is home to half of South Korea's population and generates half of the nation's GDP. The city also offers the most attractive jobs, schools and entertainment options. Since 2017, the average home price in Seoul has increased by 50 per cent, the fastest pace in the world, according to the statistics site, Numbeo.7
During the first five months of 2020, foreign home purchases also jumped by 27 per cent, according to the Korea Appraisal Board, and in June, foreign transactions climbed above 2,000 - a first in a calendar month. Rather than dampen foreign appetite for South Korean property, it seems Covid-19 has spurred enquiries, say market observers.8
According to Juwai IQI data, while the median price for Chinese enquiries is USD310,000 in other countries, in South Korea the price jumps to a staggering USD2.142mn, pointing to how inflated the South Korean market has become - and the growing willingness among Chinese to take on these high prices.9
While speculation is certainly the main cause behind the hot housing market, experts asserted that it fundamentally comes down to a supply and demand problem, especially in Seoul where housing stock is near a historical low. Experts believe this lack of supply will not only help to sustain the persistent increase in prices for new properties but will also add upward price pressure in the second-hand property market.10
Kyle Ferrier, fellow and director of academic affairs at the Korea Economic Institute of America, says in a South China Morning Post report that curbing high and rising home prices in Seoul has been difficult even in the best of times, but government policies to combat the effects of Covid-19 this year have unintentionally fuelled the real estate market.11
Owing to these factors, experts do not expect a sharp correction in the property market to take place in 2021.12
Where are Chinese looking to invest in South Korea
According to Juwai IQI's data (from June – August 2020), the top destinations favoured by Chinese property investors are Seoul, Jeju, Seogwip, Incheon and Geoje in that respective order. Majority of them (72.27 per cent) were looking for homes in the price range of USD50K-250K while a small percentage (18.2 per cent) were enquiring about properties in the USD2 million to USD3 million range.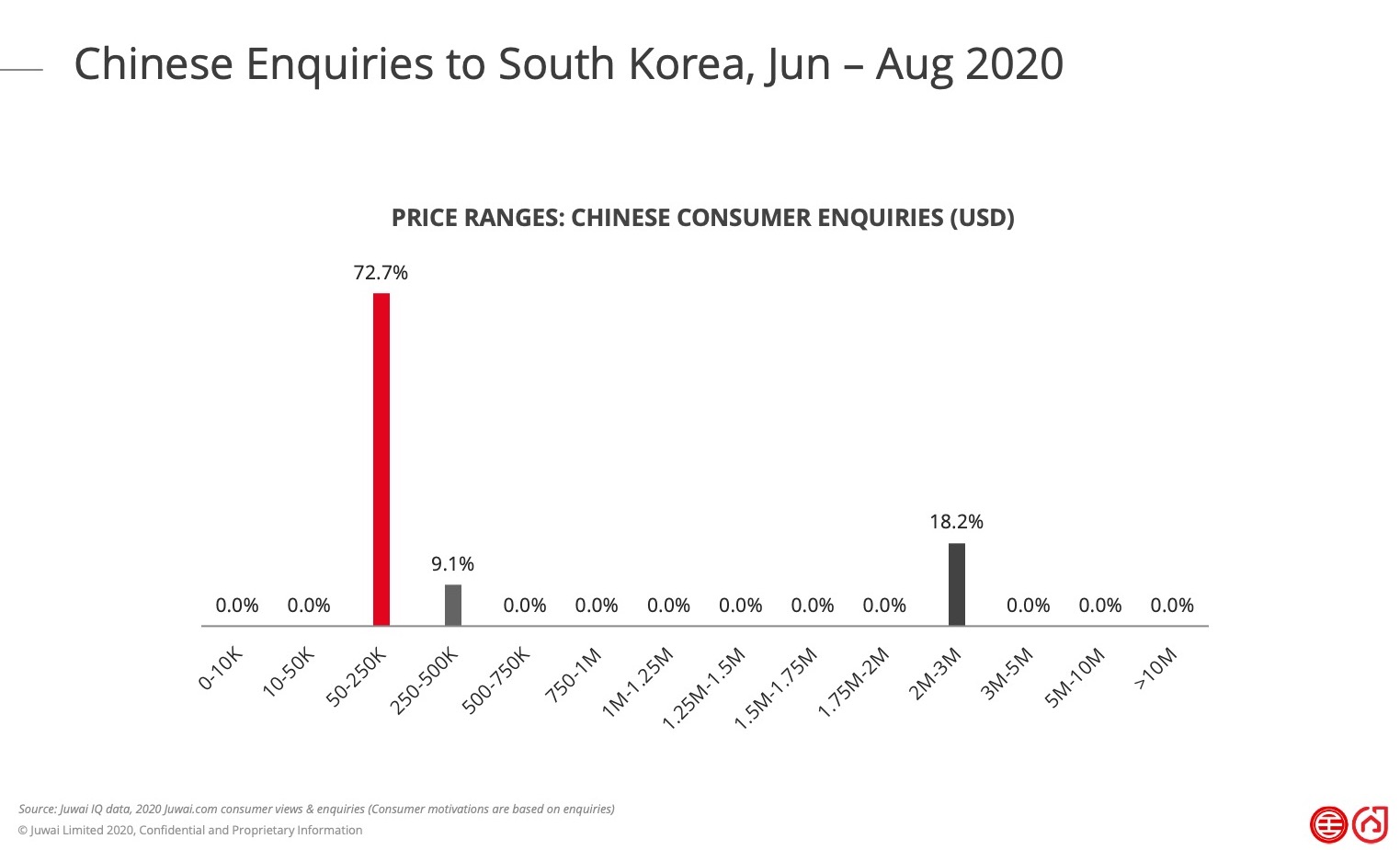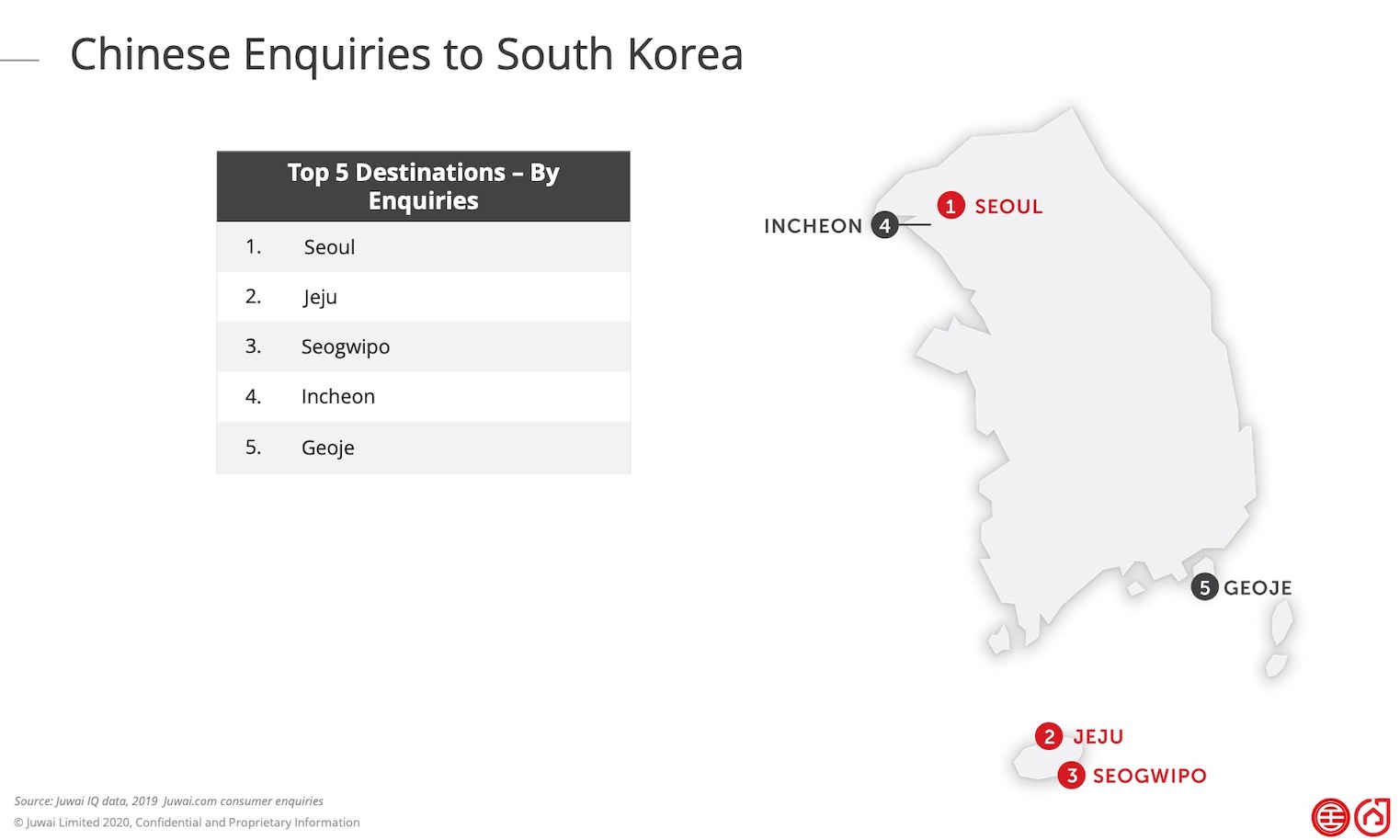 According to property agents, Chinese homebuyers preferred Bucheon and Ansan, satellite cities located southwest of Seoul with clusters of small manufacturing companies, which hire many foreign workers. Previously, Chinese had mainly purchased cheaper multi-unit houses and studio apartments but their demand for newly-built private apartments also has been rising recently.13 Apartments in areas such as Banpo-dong in Seocho district, Seongsu-dong in Seongdong district, and the ever-popular Gangnam district are also gaining much Chinese attention.14
Elsewhere in Seoul, Chinese are also eyeing residential apartments and studios in Eunpyeong district, as well as districts that are home to famous universities, such as Hongik University in Mapo district and Ewha Womans University in Seodaemun district.15
Jeju Island used to be one of the hottest spots for Chinese buyers who are drawn to its special local culture, crystal clear water and big green landscapes. Its proximity to Beijing and Shanghai, as well as its milder weather, is another drawing point for many Chinese investors to put down money in hospitality properties like resorts, villas and vacation homes.
However, rising property prices in Jeju, together with a change in residency permit which limits residence permits to only investors in tourist zones have caused a shift in Chinese investor trends. Chinese buyers are now moving on to other parts of South Korea, like Seoul.
Seogwipo, on the southern coast and close to Jeju island, claims the Jeju International Convention Centre. As one of the many co-hosts of the 2002 FIFA World Cup, it holds the island's only stadium. Known for its beaches and tourist resorts, it makes a good option for investment in hospitality properties.
Incheon is home to South Korea's only Chinatown which came into being with the opening of Incheon Port in 1883. Today, the residents of Chinatown are mostly second- or third-generation Chinese, descendants of the early Chinese settlers.
Gyeonggi is the most populous province in South Korea. The provincial capital is Suwon. As real estate prices in Seoul escalate, people are flocking to Gyeonggi to buy apartments which have boosted prices. In new residential complexes near subway stations, prices of apartment units have reached new heights. Property agents project that purchases of Gyeonggi apartments by Seoul residents will continue to increase.16
Sources: 1&13. Pulse: Chinese on shopping spree of S. Korean homes; 2. Korean JoongAng Daily: Foreign property buyers have attracted the taxman's attention; 3,10 &12. The Economist: Things to watch in South Korea in 2021; 4 &5 FP INSIDER ACCESS: Moon faces a bigger political threat than Kim Jong Un; 6. ICEF Monitor: South Korea reporting big gains in foreign enrolment; 7. Reuters: Lost Seoul: South Korean middle-class dreams spoiled by soaring house prices; 8 & 9. Property Guru: Uncontrollable soaring property values in South Korea leaves re-elected government reeling; 11. South China Morning Post: Seoul real estate: Chinese property investors might be driving prices up, but Gangnam and other upmarket neighbourhoods still offer plenty of allure; 14&15. Juwai.com: Juwai reveals Chinese buyer sentiments on South Korea; 16 The Korea Times: Chinese buying up real estate in Seoul.
Liked this article? Sign up for free to get Juwai Juwai Asia Market updates!