You've successfully copied this link.
Chinese New Year 2017: a global Golden Week bonanza
By Juwai, 06 February 2017

6.16 million Chinese travelled overseas this Chinese New Year Golden Week 2017, a 7% increase from 2016.1
Having seen a strong correlation between countries Chinese visit as a tourist and countries where they invest in, we round up several overseas hotspots that resonated well with Chinese visitors this Chinese New Year 2017, and take a closer look at how they fared this Golden Week.
Asia scores big this Chinese New Year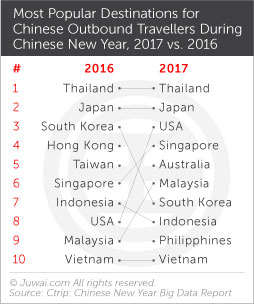 Thailand, which was touted as the top travel destination for Chinese this Golden Week by Ctrip2, as well as the #1 Chinese investment hotspot in Southeast Asia within our Juwai Southeast Asia Chinese Property Report, welcomed a huge wave of Chinese visitors.
257,000 Chinese jetted into Thailand over the Spring Festival Golden Week – an estimated growth of 10.8% y-o-y.3
This influx drove a cash bonanza in locations like Phuket – the 3rd most popular Thai city with Chinese buyers on Juwai.com – which saw Chinese spending increase 15% y-o-y to top 5 billion Thai Baht ($142 million) in just five days into the Chinese New Year period from 28 January to 1 February 2017.4
Nearby Singapore, the second most popular pick in Southeast Asia for Chinese buyers5, also saw an 8% increase in inbound air traffic from China during the Spring Festival Golden Week.6 With an estimated 60 extra flights added between China and Singapore during the week-long holiday, this year's inflow of Chinese travellers looks set to surpass the previous record of 747,381 Chinese arrivals tracked in Q1 2016.7
Japan – another perennial favourite for Chinese tourists and property investors alike – saw bookings from Chinese jump 18.2% y-o-y for Chinese New Year.8
Japan, ranked #2 on Ctrip's list of most favoured holiday destination for Chinese New Year2, also ranks as the #7 most-enquired countries by Chinese real estate investors on Juwai.com for 2016.5
That 18.2% upsurge is likely to translate into an increase on the total 6.32 million Chinese who visited in Japan last year9, particularly given reports of full bookings on flights from China to Japan10 and Chinese tourists thronging Tokyo's Ginza shopping district during the period.11
Elsewhere in Asia, Nepal saw hotels in Ghorepani filled to the brim with increasingly adventurous Chinese tourists looking for experiential travel during Chinese New Year – most who sought to experience Nepal's stunning mountain ranges and enjoy the fresh snowfall.12 Vietnam, an up-and-coming tourism and alternative investment hotspot for Chinese, also experienced a 67% y-o-y surge in Chinese arrivals in January.13
Europe see a resurgence in popularity with Chinese
Besides Asia, Europe staged a major comeback with Chinese as well, particularly the UK, whose steep currency depreciation post-Brexit is spurring waves of Chinese arrivals.
The UK, fresh from seeing a 70% hike in visitors from China and Hong Kong in the four years to 201514, saw flight bookings from China to the UK grow 81% y-o-y in January.15 Chinese visitors boosted overall spending by a whopping 153% y-o-y in London's West End alone15, while other growing UK hotspots, such as Liverpool and Manchester, saw an influx of Chinese visitors, with Manchester alone seeing a 11% increase in bookings y-o-y over the Chinese New Year period.
Chinese property investment in the UK has boomed as well, with the UK becoming the fourth favourite investment destination for Chinese buyers in 2016.5
Interestingly, Juwai Data also revealed a 53.8% y-o-y increase in Chinese enquiries for Manchester in November 2016, which highlighted a growing Chinese preference for alternative cities in the UK that may offer better returns and value for money.
This surge in Chinese demand for the UK is also in line with findings from our Juwai Chinese Buyer 2017 & Chinese New Year Travel Survey, which revealed that 12% of UK property agents have already been contacted by Chinese homebuyers planning to visit the UK over the Spring Festival Golden Week.
The UK, however, was not the only European hotspot to savour a huge upsurge in visitors from China during Chinese New Year. ForwardKeys – a travel industry consultancy that tracks air ticket reservation trends – found that Chinese travel bookings to Spain for Chinese New Year were up 88.7% y-o-y, while Italy and France both saw a 59.1% and 48.6% y-o-y increase, respectively.8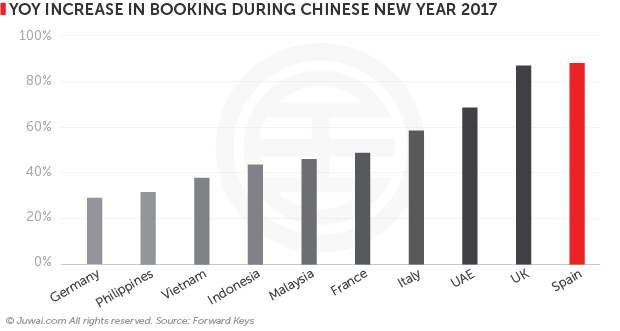 Oceania hotspots reap the benefits
Australia, the second most sought-after investment destination for Chinese buyers on Juwai.com, was an equally hot pick for Chinese travellers.
Named as the fifth most popular travel destination for Chinese this Spring Festival2, Australia forecast an inflow of up to 250,000 Chinese visitors around Chinese New Year alone.16
That's 20% of the total Chinese arrivals seen in Australia between January and November 2016.17
What's more, many of those Chinese visitors are predicted to embark on property buying sprees while in Australia, especially for those visiting
Melbourne
and Gold Coast. In fact, hotels in Gold Coast reported a 15% y-o-y increase in bookings by Chinese during the holiday period
18
, with many expected to not only enjoy the sun, sea and sand, but to also buy property too.
With these trends in mind, it is odds-on that total spending by Chinese travellers is likely to surpass the $548 million recorded during last year's holiday.19 Add on the fact that 2017 is the China-Australia Year of Tourism (CAYOT), whereby six Chinese airlines have pledged to add direct flights between lower-tier Chinese cities and Australia to boost tourist numbers both ways, we predict a strong revival in Chinese interest for Australia as both a tourism and investment hotspot.19, 20
Meanwhile, neighbouring New Zealand – which saw a 14.9% increase to hit a total of 409,008 Chinese visitors in 201621 – fared well for Chinese New Year as well. Hoteliers in Christchurch and Canterbury districts reported packed out hotels during the Golden Week, as an estimated 33,000 Chinese visitors came to town and spent an estimated NZD165 million.22
Chinese New Year 2017 bigger than ever
With Chinese spending, both domestically and overseas, having grown 40% to hit ¥462 billion ($61.55 billion) over Chinese New Year alone23, one can foretell how the Chinese spending power has grown in leaps and bounds.
Let's also not forget that there were 344 million domestic trips in China24 (a 13.8% y-o-y growth), retail sales that grew 11.4% y-o-y to reach ¥840 billion25, and a 36% y-o-y increase in online sales on Alibaba.26
All these together amounts to the biggest Chinese New Year yet for not just China but also for countries all over the world, demonstrating once again the broadening horizons of Chinese and steadily growing spending power – both of which bode well for China-focused businesses in the Year of the Rooster.
Sources: 1. Sina.com: 春节大数据:全国旅游收入4233亿 615万人出境游; 2. Ctrip "2017 Spring Festival Tourism Big Data Report"; 3. Samui Times: Over 257,000 Chinese tourists to celebrate Chinese New Year in Thailand; 4. The Phuket News: Chinese New Year brings Phuket THB 5 billion boom; 5. Juwai IQ Data 2016; 6. Straits Times: Changi readies for Chinese New Year peak; 7. COTRI: Chinese outbound tourists fuel casino-driven boom in Singaporean tourism; 8. ForwardKeys: Chinese New Year International Travel Outlook 2017; 9. Shanghaiist: Mainland tourists celebrate Chinese New Year by flocking to Japan; 10. Japan Times: Tourists flock to Japan to kick off Chinese New Year; 11. Japan Times: Tourists celebrating Lunar New Year holiday with shopping spree in Japan; 12. Kathmandu Post: Ghodepani Hotels filled to the brim with Chinese tourists; 13. VN Express: Chinese tourists remain key driver of Vietnam's tourism boom; 14. City AM: Chinese tourist spending soars in London's West End; 15. China Daily: Tourists flock to UK for Spring Festival; 16. SBS: Australia cashing in on Lunar New Year tourism; 17. Australian Bureau of Statistics: Overseas Arrivals and Departure; 18. Gold Coast Bulletin: Chinese travellers come to Gold Coast to celebrate the Chinese New Year and to buy property; 19. Australian Financial Review: Hotels, tourism operators prepare for the year of the chook; 20. CCTV: Australia preparing for surge of Chinese tourists; 21. Global Times: Overseas visitors come in record numbers to New Zealand; 22. The Timaru Herald: Accommodation booked out in Mackenzie during Chinese New Year; 23. China UnionPay on CCTV: Chinese consumers spend more during Lunar New Year holiday; 24. China National Tourism Administration; 25. 网易新闻: 2017年春节黄金周消费旺盛 供需ç»"æž"åŠ å¿«å‡çº§; 26: China Internet Watch: What are Chinese consumers buying for Chinese New Year?
Liked this article? Sign up for free to get Juwai Juwai Asia Market updates!