You've successfully copied this link.
4 reasons why Florida is the next big thing for Chinese buyers
By Juwai, 22 February 2017

Chinese enquiries grew 894% and 199% for Fort Lauderdale and Orlando, respectively, on Juwai.com last year.1
As the Chinese love for the US continued its winning streak last year, Chinese property buyer enquiries for Florida on a whole grew 63% y-o-y on Juwai.com in 2016, on top of a 92% and 488% y-o-y increase in 2015 and 2014, respectively.1
So, while Chinese may have only accounted for 3% of foreign real estate buyers in Florida last year2, that may change soon in 2017.
4 elements behind Florida's appeal to Chinese
What lies behind this upsurge of Chinese interest in Florida? We shed light on 4 factors drawing Chinese buyers to the Sunshine State below.

#1 Relatively low prices + strong returns
Florida offers relatively affordable prices, as well as good prospects of earning yields and capital gain, which makes Florida doubly enticing for Chinese.
After all, Florida is home to seven of the top 20 real estate investment hotspots in the US3 – ranked in terms of jobs, population growth, and home price growth prospects – and that makes Florida one of the best places to buy property in the US.
With respective going rates of $4,413 and $8,181 per sq.m. that are a fraction of the price of properties in other global investment hotspots, such as Hong Kong, London, and New York4, Florida hotspots, like Fort Lauderdale and Miami Beach, are highly attractive options for Chinese real estate buyers in pure value terms.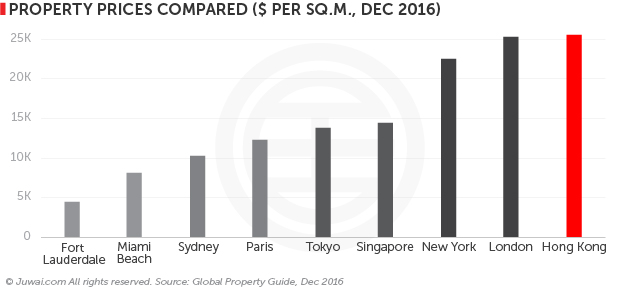 This is especially true as many Chinese homebuyers heavily focus on return on investments (ROI) when deciding where to invest abroad, and top cities in Florida, such as Miami, has some of the best yields in the US.
Roofstock, a US-based real estate website, lists Miami as having average yields of 11.2% per year, exceeding the national average of 9.2% in the United States.5
It's for this reason, as well as Florida's value proposition, that overseas investors put $6.1 billion of investment into Miami-area real estate, accounting for 36% of total investment in the market, compared with less than 10% of overall investment in the outside US market.6

#2 Lifestyle allure of sun, sea, and sand
Not only does investment fundamentals look good in Florida, but its outstanding lifestyle highly appeals to Chinese buyers as well.
54.5% of Chinese buyers on Juwai.com are keen to invest in Florida for own use, compared to 26.5% who buy for investment purposes.1
Who can say no to sun, sea, sand, golf, AND theme parks? Not the Chinese, who are beginning to discover and covet the exciting lifestyle offered in Florida, especially when it's combined with a world-class metropolis, strong economic output, and stellar universities.
Just its beaches alone are enough to tempt one to consider moving to Florida, which is home to an array of beaches ranging from Clearwater Beach – voted as the best beach in the US by Trip Advisor7 – to Miami's South Beach, one of the world's top ten beach cities as ranked by National Geographic.8
Being surrounded on three sides by water also mean stunning water views for rich Chinese, many who have shown a marked preference for waterfront property, be it in front of a beach, river or lake.
And if natural beauty isn't enough to persuade potential investors, Florida has Presidential approval too, with Donald Trump's regularly playing golf at his opulent Mar A Lago resort9 located in Palm Beach.

#3 Quality, quality, quality
On top of its great beaches and natural beauty, Florida's clean environment and superb air quality is undoubtedly a draw for Chinese, who are increasingly becoming more health-conscious, especially among those with retirement planning in mind.
Stringent environmental standards on Florida's industrial sector and strict limitations on car emissions have delivered marked increases in air quality, with South Florida registering no days of unhealthy air quality between 2011 and 201410, compared to 85 in Los Angeles, according to research by the American Lung Association.
This, combined with quality new constructions, reputable architects, and enticing luxury amenities such as private pools, deck with tropical gardens, barbecue grills and outdoor kitchens, which are hardly available in China…all these make Florida great for Chinese real estate investors.
Besides that, Florida is also an ideal retirement destination for China's greying population that is expected to number 340 million by 2030.11
Florida was voted the best retirement destination, according to a WalletHub survey of US locations, in terms of property affordability, quality of life, and healthcare.12
Perhaps that's why Florida has the highest percentage of the population (17.3%) aged 65 and above, compared to other US states.
That aside, Florida does not disappoint in terms of quality education offerings too – Florida boasts five top-class universities18 within the Quacquarelli Symonds (QS) ranking of the world's best higher education institutions.19
Pampered with first-rate schooling choices – including the University of Florida, University of Miami, and Florida State University – as well an array of top-quality private schools20, this offers Chinese an even-more compelling reason to invest in Florida, especially since education figures prominently in Chinese property buyers criteria.

#4 Upcoming direct flights between China and Florida
Home to Disneyworld and Universal theme parks, Florida is the second most popular tourist destination in the US13, just behind California.
Florida attracted 106.35 million visitors in 2015 – 275,000 who came from China.14
While Chinese travellers currently face the lack of a nonstop, direct flight from China to Florida, this may change soon as various Florida officials are pushing to improve air connections with China.
Already, we've seen Miami officials visiting China last May to meet leaders at from China Eastern Airlines, China Southern Airlines, and Hainan Airlines and discuss about adding services to Miami International Airport.15 Other Florida tourism delegates were seeking to establish direct flights from China to their cities too, such as to Tampa Airport.16
Even Cathay Pacific is considering an Airbus proposal to add its latest A350 model as well, which has an extended range capable of connecting Hong Kong to Miami.17 With air connections with China expected to improve in the future, we predict an uptick in Chinese travelling to the Sunny State in the next few years, which could potentially boost Chinese demand for Florida property.
Chinese presence in Florida set to grow
All these indicate that the Chinese share of the Florida market is poised for growth, and Chinese developers have honed in on this, particularly in Miami.
Already, China City Construction, a mainland China developer keen on US expansion, have invested $110 million21 into land at Miami's North Beach and West Brickell, as part of their plans to build condominiums and retail facilities.22
Swire Properties, a leading real estate developer based in Hong Kong, is also in on the opportunity and has invested $1.064 billion23 in a multi-format property development project in Brickell, a fast-growing area of Miami that is also the city's major financial hub.24
But it's not all about Miami when it comes to Florida with real estate buyers from China, as seen from the rapid growth in Chinese buyer enquiries for Fort Lauderdale and Orlando last year.
Where else were Chinese real estate buyers looking in Florida?
Beyond the top three most-enquired Florida cities of Orlando, Fort Lauderdale, and Miami, other Florida cities receiving much love from Chinese buyers last year were Longwood, Cape Coral, and Tampa as well.1
Liked this article? See where else Chinese real estate buyers were looking last year in our Top 10 Chinese Buyer Picks for 2016.
Sources: 1. National Association of Realtors (NAR) & Miami Association of Realtors "Profile of International Residential Real Estate Activity in Florida"; 2. Juwai IQ Data 2016; 3. Miami Curbed: Florida dominates ranking of America's most investable housing markets in 2016; 4. Global Property Guide, December 2016; 5. Roofstock: Miami Investment Property Market Overview; 6. Miami Herald: Zillow: Miami area investment property produces big rental returns; 7. Orlando Sentinel: Clearwater beach ranked the best beach in the US; 8. National Geographic: Top 10 Beach Cities; 9. Wikipedia: Mar-A-Lago; 10: Sun Sentinel: Florida Air Pollution Report; 11. Brookings Institute: China's one-child policy at 30; 12. Sunshine State News: Florida best state for retirees; 13. Business Insider: The most popular US states for tourism; 14. Travel Weekly: Growth of Chinese tourism the talk of U.S. travel show; 15. South Florida Business Journal: South Florida airport leaders report 'positive talks' with airlines for nonstop Asia-Miami flight; 16. Jing Daily: Beyond NYC and LA: 7 lesser-known U.S. destinations bidding for Chinese tourists; 17. Bloomberg: Cathay Pacific tries newest Airbus wide-bodies to save fuel; 18. Top Universities: Study Florida; 19. Wikipedia: QS World University Rankings; 20. K-12 Niche: Florida's Best Private Schools; 21. Miami Herald: The China vanguard: State-owned developer seeks to build big in Miami and Beach; 22. The Real Deal: Chinese developer gets approval for 18 story condo in Miami Beach; 23. South Florida Business Journal: Swire Properties proposes final phase of Brickell Key; 24. Ocean Drive: Why up-and-coming Brickell is becoming the center of Miami;
Liked this article? Sign up for free to get Juwai Juwai Asia Market updates!