You've successfully copied this link.
The lowdown on China's booming outbound tourism market
By Juwai, 09 September 2017

Chinese outbound tourism boomed to 122 million travellers in 2016, up 4% from 2015.1
When you put that together with the 7.2% increase in outbound travellers seen during May's Dragon Boat Festival2, it's apparent that China is well on the way to not only meeting the forecasted 10.6% growth to 135 million travellers in 2017 – tantamount to the whole population of Russia – but also to reaching 179 million outbound travellers by 2020.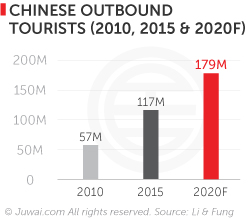 What's more fascinating to note, however, is that Chinese tourists are increasingly opening their wallets while abroad too.
2016 saw Chinese total outbound expenditure grow 12% y-o-y to hit an estimated $261 billion3, equivalent to Chile's total national GDP.
Now that's a huge increase compared with the $48 billion outbound spending measured in 2010.4
Four reasons Chinese outbound tourism is on the rise
What's behind the surge in outbound Chinese travel, and why has it remained one of the biggest games in town? We share four unique driving factors:

#1 Connectivity
Since 2006, Chinese air carriers have opened 75 long-haul airline markets.5 What's more, international air routes in China grew 35% to reach 660 in 2016.5 That makes for plenty of flight choices for China's huge market of tourists, who are increasingly keen to visit travel internationally to broaden their horizons.

#2 Visas
The huge spending potential of Chinese tourists has compelled governments all over the world to ease their visa policies, such as the US, Australia, Japan, and Vietnam, to name a few. This makes it easier and cheaper than ever for outbound Chinese travellers to get up and go achieve their overseas travel dreams.

#3 Incomes
Chinese disposable incomes have seen steady, sustained growth in recent years, and that means more money for them to spend than ever. Average annual disposable incomes of RMB33,616 ($5,125) measured in 20166 are close to thrice the RMB13,000 measured in 2007, and close to 100 times more than the RMB343 measured in 1978.7

#4 Services
China's tourism goldmine has attracted a stream of businesses keen on cashing in, with a great example being Ctrip – China's leading travel agent with revenue of $2.8 billion in 2016.8 Businesses like Ctrip have built seamless online booking platforms, with a whole range of destinations and services that make it easier than ever for Chinese outbound tourists to book an overseas jaunt.
Chinese outbound tourism: fundamental shift in consumer demand
Underpinning this trend is a fundamental shift in Chinese consumers spending toward overseas travel, which was covered in detail in the Hurun Report's Chinese Luxury Consumer Survey for 2017.9
According to the survey, travel reined as the top leisure activity for China's high net worth individuals (HNWIs), who take a 10-day holiday overseas about 3.4 times a year on average.9 Their top vacation hotspots? The Maldives, France, and the US.9
Chinese tourism demand is becoming more sophisticated as well. While tour groups are still popular, Chinese tourists are expanding not only their global footprint, but they are diversifying both the ways and the reasons why they travel:

#1 Cruises
986,000 Chinese travelled on cruise ships in 2015, marking a 66% average annual increase from 2012, according to Cruise Lines International Association (CLIA).10
That renders China as the fastest-growing global market for cruise ship passengers, especially as more and more Chinese look for a different way to cross the globe, which not only offers a more relaxed setting but also an expanded range of locations too.
By 2025, 4.5 million Chinese travellers are projected to embark upon international cruises11, explaining why huge cruise industry names such as Carnival Corporation, Royal Caribbean, Norwegian Cruise Line, and MSC are investing heavily in the Chinese market.

#2 Adventure escapades
Chinese are increasingly embracing a growing passion for outdoor activity holidays, and this has sparked a bonanza for adventure travel operators worldwide.
One great example is New Zealand's Queenstown, which is a hotspot for skydiving and hot air ballooning activities – Chinese travelers made up two-thirds of bookings for those activities in 2015, even as a boom in independent travel by Chinese visitors to New Zealand saw a 60% y-o-y increase in solo arrivals during 2014.12

#3 Endurance events
Marathons are growing in popularity in China as Chinese seek healthier lifestyles – 328 marathon events took place in 2016, more than double the 134 held in 2015.13
Riding on the back of this surge in interest and popularity, plus the fact that Chinese are becoming ever more ambitious with their global travel aspirations, Wanda spent $650 million14 to acquire the Ironman Triathlon franchise to both market the events in China, as well as attract Chinese to their overseas Ironman Triathlon challenges.

#4 Wine and whiskey tours
Chinese consumers' ravenous appetite for premium alcohol saw total wine imports from across the globe reach $2.4 billion in 201615, as well as whiskey imports from Scotland reach £41 million ($54 million).16
Caving in to their thirst for more, China's alcohol aficionados are now going the extra mile to fulfill their liquor cravings overseas, embarking on whiskey shopping tours generating some £50,000 ($65,935) in sales in the UK17, and driving a 50% y-o-y increase in visits to New Zealand vineyards as they embarked on wine-tasting and buying sprees.18

#5 Health and medical tourism
China's growing market of HNWIs, as well as its ageing population that is putting increased emphasis on health and fitness, are driving Chinese demand for overseas medical treatment that grew 500% to hit 500,000 outbound medical trips in 2016, according to Ctrip.19
Chinese outbound medical tourists spent an average of RMB50,000 ($7,194) on their trips, compared to normal Chinese travellers who spent RMB26,000 ($3,741) on average in Europe or RMB18,000 ($2,590) in Asia.19
With such lavish spending, Chinese outbound medical travellers are definitely a lucrative market to tap into, and top medical tourism destinations like the US, Japan, Germany, UK, Singapore, Thailand, South Korea, and India are already reaping the benefits of China's growing demand for top-notched overseas medical services.
Chinese outbound travels bolstering international property investment
According to a recent in-depth study by Li & Fung into Chinese traveller spending patterns, Chinese tourists spent an average of $2,449 on each outbound trip – 55% which approximately 55% went towards retail purchases.1
The study also revealed that 72% of Chinese respondents used online channels as their primary method of planning, booking, and researching their trips, thus confirming that online is now the predominant means for Chinese to size up overseas markets, and plan their overseas splurges.
More importantly, the underlying trends outlined here – increased interest in overseas markets, rocketing spending, increasingly diversified demand, and the dominance of online channels to manage investments – could easily spill over to spur outbound Chinese real estate investments, as many Chinese buyers have shown an inclination to purchase homes while travelling abroad.
Just as more Chinese outbound travellers are heading to explore lesser known locations, such as Morocco, Chinese buyers are revealing increasingly adventurous overseas aspirations for property in emerging markets too, such as Panama, Thailand, Vietnam, and Turkey.
And as Chinese venture further afield, their demand for overseas property investments will continue to grow. Considering this outpouring of demand was worth some €469 million to agents in Spain alone last year, and an estimated $27 billion to agents in the US20, this is definitely one market that you can't afford to ignore.
Sources: 1: Li & Fung: Chinese Outbound Tourists— More Diverse, More Sophisticated 2. Xinhua: Outbound tourism grows during Dragon Boat Festival holiday; 3. UNWTO: Chinese tourists spent 12% more in travelling abroad in 2016 4. Jing Daily: 2011 Chinese outbound tourism spending expected to reach $55 billion 5. Bloomberg: Chinese airlines are flooding the world with super-cheap airfares 6. China Daily: China's personal income rises 6.3% in 2016 7. Trading Economics: China disposable income per capita 8. PR Newswire: Ctrip reports unaudited fourth quarter and full year 2016 financial results 9. Hurun Report: Chinese Luxury Consumer Survey 2017; 10. Ship Technology: China's cruise industry: soaring demand and a changing demographic; 11. Jing Daily: Making sense of China's booming cruise industry; 12. Skift: The growing Chinese adventure travel market wants experiences beyond tourist traps; 13. Sixth Tone: China's booming marathon industry leaves Kenyan runner hanging; 14. Reuters: China's Wanda buys Ironman Triathlon owner for $650 million; 15. The Drinks Business: China wine imports up in volume and value in 2016; 16. Scotch Whisky exports return to growth; 17. Independent: Chinese tourists spend up to GBP 50k on whiskey during trips to the UK; 18. Bloomberg: vineyards cash in on Chinese tourism boom; 19. Jing Daily: Report: Chinese medical tourism grows by 500 percent in 2016; 20. The Real Deal: One country is dominating US home sales to foreign buyers;
Liked this article? Sign up for free to get Juwai Juwai Asia Market updates!