You've successfully copied this link.
Policy curb to have limited impact on Chinese overseas home buying
By Juwai, 08 December 2016

The Chinese government has stepped up scrutiny of domestic companies' overseas deals following a record USD530.9 billion worth of outbound investment1 YTD in September (vs. USD209 billion in 2015).2
The government aims to cultivate orderly and healthy development of overseas investment by managing corporate investment more closely, while still encouraging overseas expansion through initiatives, such as its One Belt, One Road (OBOR) initiative.
Private investment in residential real estate will remain strong since key drivers, such as investment visa programmes and long-stay, multiple-entry visas, will see no impact, and demand for overseas education and tourism is still expected to grow in 2017.
State Council circular steps up deal oversight
In late November 2016, the State Council – China's most powerful government body – sent a draft circular to all government departments, requiring them to run approval processes on foreign deals worth USD10 billion+ and any USD1 billion+ deal that falls outside the acquirer's core business. The circular also called for a halt to any purchase of foreign real estate worth more than USD1 billion, according to the Financial Times.3
China's State Administration of Foreign Exchange (SAFE) will require all companies transacting more than USD5 million to seek approval for the deal to ensure the legality and authenticity of the deal.4
The reported policy changes indicate a different stance by the Chinese government compared to its previously announced policy on outbound investment. In September 2014, the State Council issued directives requiring registering a new investment transaction, rather than requiring an extensive approval process.5
Regardless, this means more stringent requirements and tighter approval processes, which indicates the Chinese government wants to slow capital outflow and increase scrutiny on deals.
This comes after news of a number of Chinese companies buying overseas assets6 amid the RMB's recent depreciation7 as a means to secure foreign currency cash flow and, in some cases, attracting attention about overpaying8 in their haste to push deals through.
In an official statement, SAFE emphasised its support of 'authentic and compliant' outbound direct investment. It encouraged enterprises with the capabilities and resources to explore outbound investment business.9
The administration plans to work with various departments to check authenticity and legality, to curb fake outbound investment behaviour, and facilitate a healthier development of outbound investment.9
Closer management of outbound deals in prospect
The new round of scrutiny suggests the government is looking to more closely manage the flow of investment but outbound investment and internationalisation remain a key part of the government's policy agenda, making the prospect of a complete shutdown in outbound investment from China highly unlikely.
The government is committed to its One Belt, One Road (OBOR) strategy, and is still directing both private and publicly-owned companies to buy overseas companies to both expand their scale and acquire know-how.
High deal threshold for corporate real estate deals
The USD1 billion threshold for approvals on real estate deals looks too high to mark a shutdown on investment.
CBRE Research shows that 70% of outbound deals by Chinese companies were below this amount between 2013 and H1 201610, and the threshold is too high to halt residential purchases by Chinese individuals.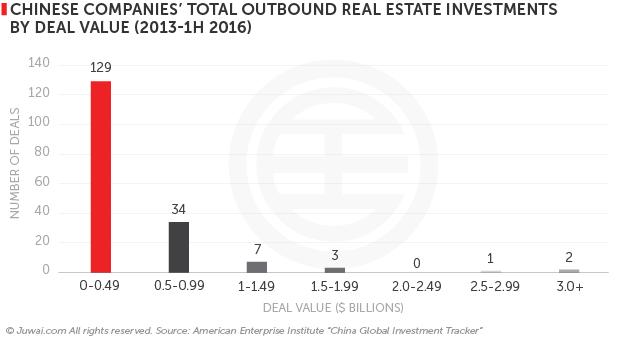 China-based real estate developers, who have been some of the most active acquirers, will likely focus on smaller-scale overseas projects. Vanke's example of taking small stakes in overseas developments, such as its 30% interest worth USD109.3 million in a joint project in Singapore with Keppel Land11, look set to become the norm as companies look for smaller stakes to avoid hold-ups from closer government scrutiny.
No evidence of crackdown on residential property investors
On the side of individual investors, there is no evidence for a roll-back on visa mechanisms, such as the US EB-5 programme or Europe's 'Golden Visa' programmes that support investment by Chinese individuals in overseas residential real estate.
What's more, recent evidence demonstrates that access to long-stay, multiple entry visas – a key driver of overseas residential property investment – is widening for Chinese citizens.
Furthermore, investment in overseas residential real estate will still be propelled by fundamental underlying drivers such as increasing outbound tourism from China, which is expected to propel a 6% y-o-y increase in outbound travel from Asia in 201712, and the continued allure of overseas education to Chinese students and the families that look to relocate overseas to support their children during their studies.13
Sources: 1. Reuters: China forex regulator tightens controls to stem capital outflows – sources; 2. Heritage Foundation: China Overseas Investment Tracker Map; 3. Financial Times: Why China is cracking down on outbound deals; 4. CNBC: China unveils crackdown on companies investing overseas; 5. Library of Congress: China: Rules revised to facilitate overseas investments; 6. SCMP: China's overseas buying spree will gather pace, despite weaker yuan; 7. Bloomberg: China's Yuan tumbles to eight-year low as banks weaken forecasts; 8. Oil Price: Why did China grossly overpay for a utility in Brazil?; 9. China Real Estate Club: 外汇局支持真实合规的对外直接投资; 10.CBRE Capital Watch: Chinese capital controls and CRE; 11. China Invest: China Vanke to buy 30% stake in Keppel Land's Singapore project; 12. Hotel News Resource: Asian outbound travel boom to continue in 2017; 13. The Economist: A roaring trade;
Liked this article? Sign up for free to get Juwai Juwai Asia Market updates!