Forces weighing on property markets worldwide are not undermining Chinese buyers' enthusiasm for overseas properties who still recognise their long-term potential, though they are hastening structural changes.
China's recovery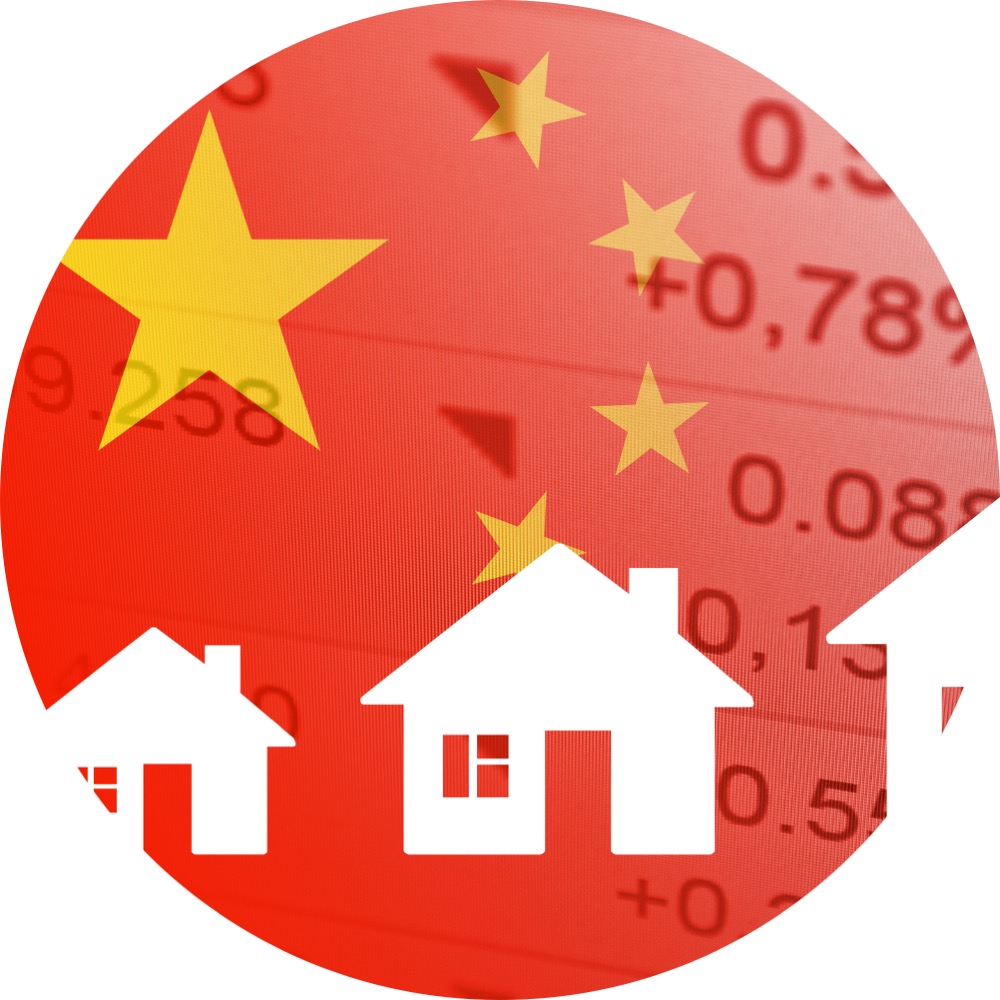 If you a property owner, real estate developer, agency or agent, you can't ignore the potential of Chinese property buyers because the country has undergone exponential growth over the past few decades to become the second-largest economy in the world with a GDP of more than USD14.4 trillion.1
This has created many high-net-worth (HNW) Chinese with enough affluence to go property hunting all over the globe to diversify their wealth. However, in the past 24 months China has been battling the effects of financial de-risking, a trade war with the US and geopolitical disputes with other countries and recently, Coronavirus which brought the country's economy to a halt in February.
According to our data at Juwai IQI, global Chinese outbound real estate investment fell from USD129 billion in 2018 to USD5 billion in August 2020.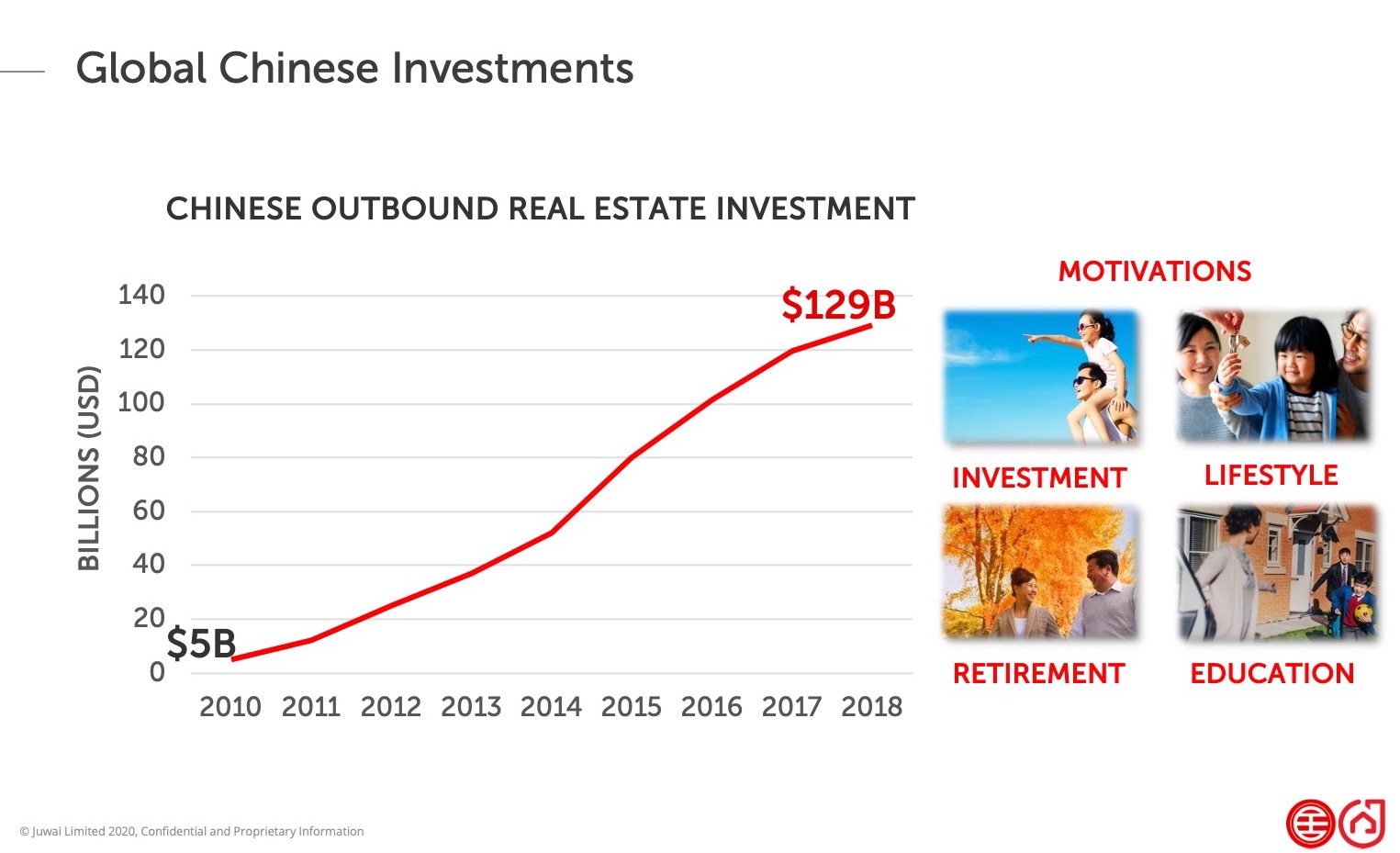 However, there are signs that China's economic recovery is picking up steam after successfully mitigating the spread of COVID-19. Transactions which came to a standstill at the end of January, are now starting again, albeit at a much slower pace.
China's official manufacturing Purchasing Manager's Index (PMI) for the month of August came in at 51.0 as compared to 51.1 in July, according to China's National Bureau of Statistics. PMI readings above 50 indicate expansion, while those below that signal contraction.2 China's economy grew 3.2 per cent in the second quarter following a record slump of 6.8 per cent in the first quarter of the year, signalling a quick recovery.3
What is the future of real estate when it comes to Chinese buyers looking for overseas properties? Here are four trends that realtors will have to look out for in the future when marketing to Chinese buyers.
#1 Technology and innovation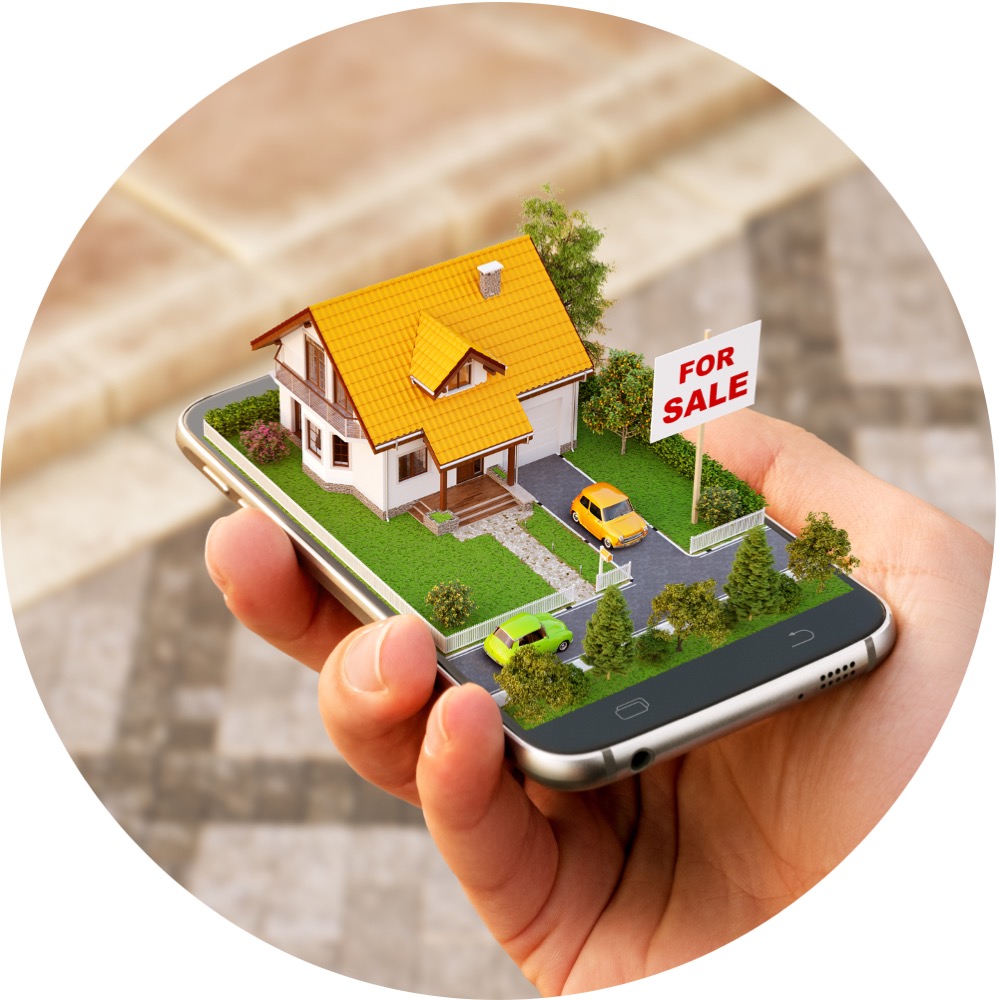 The pandemic has undoubtedly for the first time in history forced the world to deal, on a massive scale, with remote working, distance-learning, e-meetings, etc. The crisis has unwittingly shown that there are innumerable as well as cost-effective ways to conduct human activities. In other words, we have now entered into a zone of digital irreversibility. With so many industries taking their business online, it's only natural to think about the way technology will affect the future of real estate in 2020 and beyond.
Accordingly, marketing to the Chinese property buyers will also be impacted, whether it be in transactions, capital deployment, property management, or even consumption patterns. Although virtual meetups cannot replace the experience of face-to-face engagement, Covid-19 has accelerated the use of virtual walkthroughs, 3-D mapping and drone surveys of residential and commercial properties and turn these tools into de facto industry standards.
For instance, at Juwai IQI, livestreaming of events has become so successful, the company is hosting almost two webinars a week on its Juwai Live Program as developers and agents realised that going live on social media still allow them to effectively network with prospective customers and other industry professionals.
We've also seen a growing use of data analytics in the industry as real estate is all about the numbers, especially when it comes to investment properties. Real estate professionals need to be looking at a lot of data to maintain their assets. Artificial intelligence (AI) and predictive analytics are a necessity if you want to be competitive in the industry.
There's also been a boost in demand for blockchain applications in some of the more rapidly developing regions like China, Singapore, and Southeast Asia. And this technology can be designed to support any type of transaction. Think of it as a web-based real estate market. The future of real estate agents will revolve around this technology, actively selling and buying properties using blockchain.
#2 Expansion in cities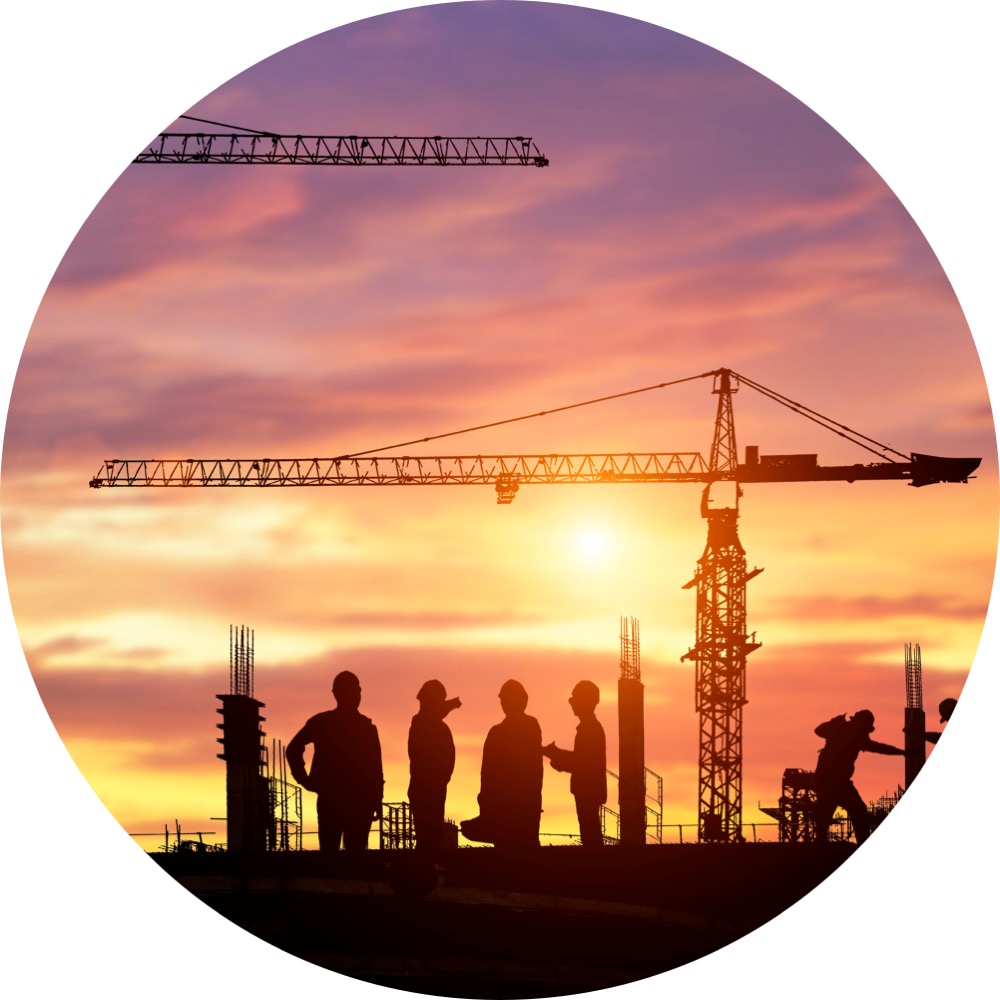 According to Real Estate 2020: Building the Future, a (pre-COVID-19) report from PwC, investable real estate is projected to expand by more than 55 per cent by 2020 compared to 2012 as cities urbanised and economies grow.4 More and more cities across the world are working on building themselves to be centres of wealth creation and if construction activity continues at pre-COVID-19 pace in the future, expect to see booming property sectors across Asia (most fast-paced region), Africa, the Middle East and Latin America. By 2025, there will be 37 'megacities', up from 23 today, and 12 of these will be in emerging markets.
By 2025, emerging markets will host 60 per cent of global construction activity.5 Overall, total construction output globally is projected to reach a whopping $15 trillion by 2025.6 Migration will follow as entirely new cities emerge in nations across the world. China is expected to experience the largest migration (1.5 million new residents a month for the next ten years). Even developed cities are witnessing population increases. London, for instance, will welcome two million new residents by 2031.7
#3 Demographic shifts
By 2050, it is forecasted that there will some 2.1 billion people aged over 60 than those below 15.8 Ending 2020, the world's population of middle-class consumers will have increased by one billion with the largest share of young people in developing countries. Both age groups will affect the future of real estate.
In China, it is forecast that close to 40 per cent of the population will reach the age of 60 and older by 2100.9 An ageing population means new sectors in the real estate market will emerge to gain Chinese investor interest who are looking to retire outside of China. The older population will require more nursing homes so healthcare and retirement facilities will become significant subsectors in the market while younger Chinese property investors are likely to look for properties that can provide good yields to grow their wealth.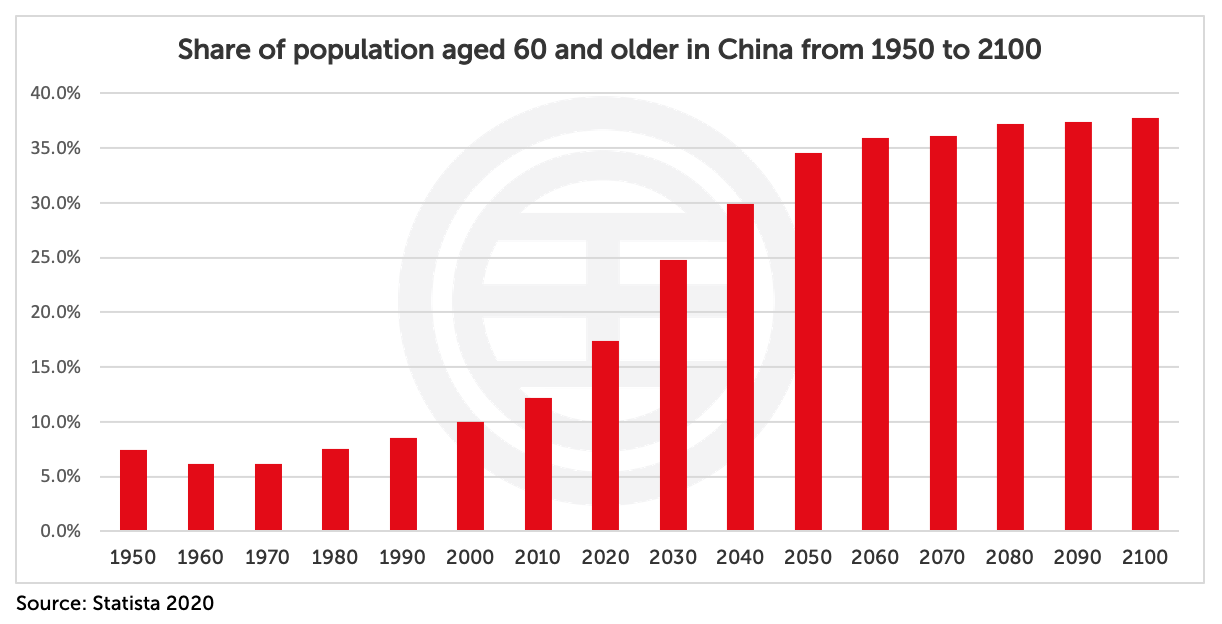 #4 A greener future for real estate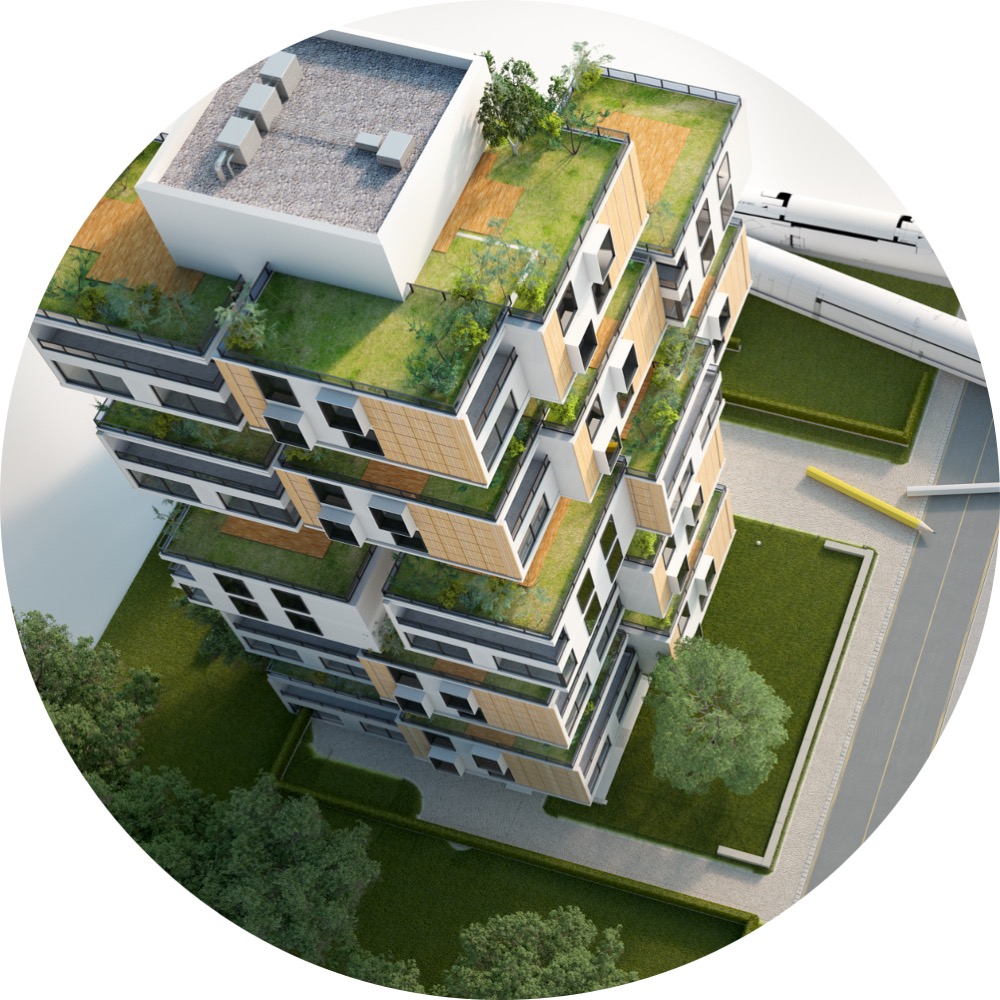 Sustainability ratings in new developments will become a key driver in real estate value as population growth and urbanisation bring along with them the necessity for more eco-friendly real estate development especially with millennials.
It's projected that by 2050, the world will need 50 per cent more energy, 40 per cent more water, and 35 per cent more food to sustain the population.10 This means new properties will be designed with a "green" strategy in mind.
China currently has about 400 million millennials. They are one of the largest emerging consumer groups in China and their growing influence is already driving new trends in real estate markets across the region, making it essential for realtors to gain a thorough understanding of their behaviours, requirements and priorities.
Home features that include renewable energy technologies and waste reduction will become priorities in new buildings. Expect to see a greener and more ecological-friendly development in the real estate sector.
Landlords of commercial buildings have also come around to the view that incorporating sustainable features into their buildings will allow them both to cut operating costs and increase rents as tenants become more willing to pay for space that acts as a magnet for talented staff.
The future
Although COVID-19 has transformed homes and workplaces overnight, developers have been quick to adopt various strategies to overcome these challenges. The future of the real estate sector, say experts, is bright, especially in Asia Pacific and we can expect real estate players to continue placing greater attention to safety and sustainability of the industry. Developers are now moving forward confidently in reimagining new projects, with a focus placed on health and wellness, as well as leveraging technology in their projects.
Sources: 1. Investopedia: The Top 20 Economies in the World; 2. CNBC: China says manufacturing activity expanded in August, slightly missing expectations; 3 BBC: Coronavirus: Chinese economy bounces back into growth; 4 & 8 PwC: Real Estate 2020:Building the future; 5. Plastics Market Watch: Plastics - Building for a more sustainable future; 6&7. IOM: World Migration Report 2020; 8. United Nations: World Population Ageing; 9. Statista: Share of population aged 60 and above in China from 1950 to 2100; 10. How to feed the world in 2050